Not terribly long ago I reviewed Pure Digital's $180 Flip Mino. In that review I explained that the Mino could be purchased in black or white. I'd like to take this opportunity to change my tune in regard to this diminutive camcorder's limited color scheme. As of today you can get a Mino in black, white, or any other color scheme or pattern you can imagine.
You can do this thanks to a free new customization service offered by Pure Digital. Just point your browser to the Flip Video Store and you'll see that you have the option to apply a limitless number of patters to a white Flip Mino, choosing from hundreds of designs offered by the company, generating a design with the pattern generator, or applying an image you've uploaded to the store. The designs are not interchangeable skins that you can easily put on and pull off. Rather, CafePress, the company responsible for handling the printing, embeds the design into the Mino's plastic case. Once it's on, it's on for good.
I took the opportunity to design my own Mino with an image I uploaded and it couldn't have been much easier. Just click the Get Started link on the Video Store page, click a Choose File link on the resulting page, and navigate to a JPEG image on your hard drive that you'd like to use. Upload the image and a window appears where you can position, rotate, and scale your image. To the right of this window you see a preview of how the image will look on your Mino from four different angles. The position of your image is important because the design can't be applied to the lens or the metal strip on either side of it so you'll want to account for the "hole" in the design.
At this point you can click Add to Cart and eventually buy the thing. But you don't have to. You can design your Mino and then share the design on your Facebook, MySpace, or Bebo page or send the design, via email, to anyone you like. As you might expect, one reason to share your design is to hint, very broadly to someone who values you to the tune of $180, that you'd like them to buy this Mino for you. But there's another advantage.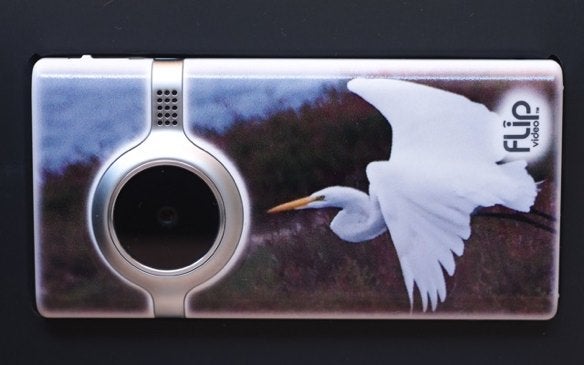 That advantage is that you can sell your design if you choose to. When you submit a custom design you have the option to give it away to others for free or offer it for sale. If someone purchases a Mino with your design, they pay the same $180 and you get $10. Yes, this is a very slick promotional opportunity for your band or school or croquet club.
The Mino is already a good take-it-anywhere pocket camcorder. With a customized design it's now not only functional, but a completely unique holiday gift. Definitely worth checking out.