Iomega on Wednesday introduced the StorCenter ix2, a new network storage appliance aimed at small businesses and home users. It's priced starting at $299.99 for the 1 terabyte (TB) version. Iomega plans to ship the new device on October 30, 2008.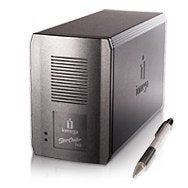 The StorCenter ix2 incorporates EMC's LifeLine software. It's Linux-based software that provides centralized storage and on-board security. The StorCenter ix2 can be configured with optional Bluetooth support, so you can send pictures, files and address book contacts from compatible devices. You can also connect compatible Axis video surveillance equipment.
The device also features built-in support for Universal Plug and Play (UPnP) and Digital Living Network Alliance (DLNA)-certified devices. That means it can play back music, display photos, videos and other digital content using laptops and desktop computers, consumer electronics and home entertainment products. The StorCenter ix2 also has a built-in iTunes server.
The StorCenter ix2 integrates EMC Retrospect Express backup software. It has a Gigabit Ethernet connection, and data is stored on two SATA hard disk drives. It also has two USB interfaces to support USB printers for network print sharing, a USB Bluetooth dongle or external USB drives.
The 2TB version costs $479.99.