Funimation on Wednesday announced that the first episode of its hit anime series Witchblade is now available for free download from the U.S. iTunes Store. It's available through October 26, 2008.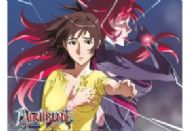 Created by renowned anime studio Gonzo, Witchblade tells the story of a Masane Amaha, a woman who must wield the witchblade — an arcane source of great power that's part armor, part blade, and part sentient. She's thrust between two opposing corporations who will stop at nothing for control of the witchblade. Witchblade is rated TV MA.
One thing that makes Witchblade different from many other Funimation anime series is the series' origin: It was originally developed as an American comic book series by Image Comic imprint Top Cow Productions. It was later turned into a live-action TV series starring Yancy Butler. The anime series is based in a futuristic Japan. The anime has also been broadcast on cable channel IFC.
Other episodes are available for $1.99 each. You can also buy a complete season for $38.99.
More information about Witchblade is also available from the Funimation Web site.