At a Glance
Expert's Rating
Our Verdict
While I'm a huge fan of tabbed browsers—you'll often find me using Firefox or Safari with 15 to 20 open tabs—this approach to en-masse web surfing does have its downsides. The biggest issue is when (not if) your browser crashes, it will take down all of your open tabs along with it. There may also be times you want to leave a page open while closing all your other tabs—if you don't think about this before hand, though, you'll more than likely just close the window, losing the page you wanted to keep open. It's after a big crash, or closing a tab you wanted to leave open, that you may find yourself thinking, "Gee, wouldn't it be great if I could just run that one page I wanted to view in its own little browser application?"
If the rumors are to be believed, the as-of-yet-unreleased Safari 4 will include a feature to do just that: convert any particular site you're viewing into its own standalone browsing application. These mini-programs are known as site-specific browsers (SSBs). But who knows when Safari 4 may be released, or even if the rumors are true? The good news is that there's a free solution available today that does the same thing—as long as you're running Mac OS X 10.5 (Leopard), that is. Fluid is a program, built around WebKit, the open-source Web-browser engine that also powers Apple's Safari web browser, that converts any URL into its own Cocoa application, with a trivial amount of effort.
Fluid is incredibly easy to use—its entire interface is a single dialog box with two text fields and two drop-down menus. You enter the URL you'd like to convert into an application, provide a name for the new application, specify where you'd like the application to be saved, and then pick an icon that you'd like to use for the application.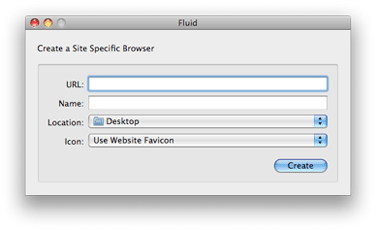 You can tell Fluid to use the site's favicon (that small icon that appears to the left of the site's name in your browser's URL bar), or point it to an icon file on your computer. There's even a Flickr group with nearly 300 ready-to-use icon images. When everything is to your liking, click Create, and a second or so later, you'll have your own SSB.
Once created, you launch your SSB as you would any other program on your Mac, and the site you specified will then open in its own window. Because your SSB is a real program, it will appear in the Dock, can be stored in the sidebar or toolbar, and even has its own preferences interface—found in the usual spot under the application's name in your menu bar.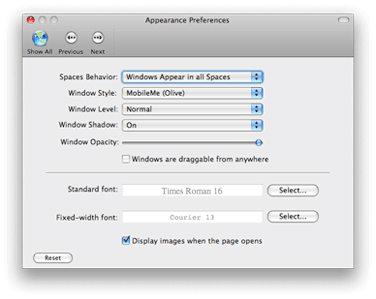 That preferences dialog is relatively full-featured, and offers some tweaks not found in most other OS X programs. As seen in the image at right, you can control how the program's windows behave when you use Spaces; and you can change the window's appearance, make it float above all other windows (or embed it in the desktop, below everything else), set its shadow on or off, apply a degree of opacity, and even specify that the window can be dragged from anywhere, not just the top or bottom of the window.
The Advanced tab in your SSB's preferences offers control over how URLs—links you click on or URLs you manually enter—are handled by your SSB. By default, the SSB is restricted to Web pages in the domain you specified when the SSB was created. Left in this mode, hyperlinks and typed-in URLs outside of the SSB's own domain will open in your default browser. You can disable this behavior, if you wish, and navigate within your SSB to anywhere you'd like. Note, however, that when you quit your SSB, it always remembers the last URL you browsed to, so if you browse away from the SSB's original domain and then quit the SSB, the newly-navigated site will load the next time you launch the SSB. Due to this behavior, I prefer to leave the domain restrictions in place.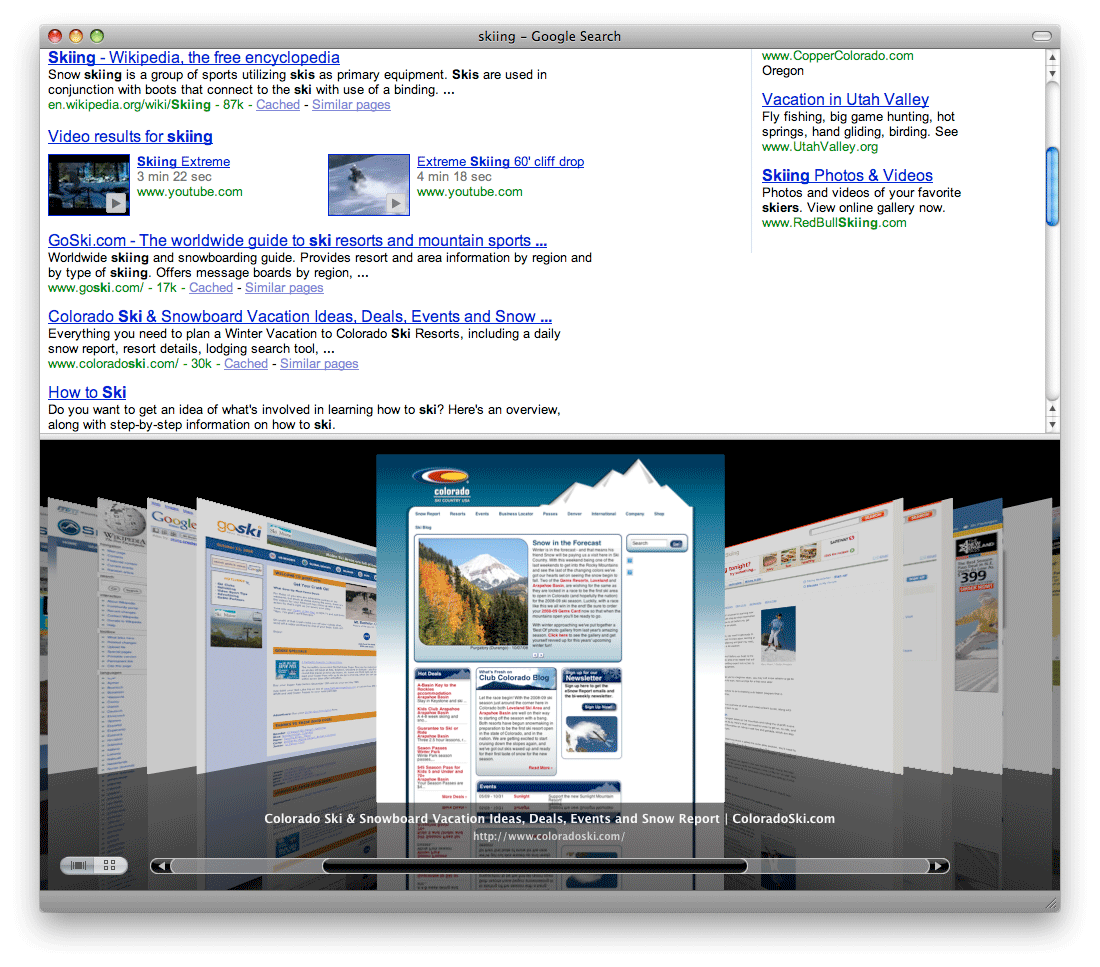 The other interesting feature in the SSB's preferences is the Plug-Ins section. Here you'll find three entries, two labeled Browsa, and one called Thumbnail. The Browsa plug-ins let you split your SSB window: for example, you can add a pane on the left and/or the right—the positions can be modified in the preferences—that can be used to browse other sites.
The Thumbnail plug-in controls another unique aspect of Fluid-created SSBs: with certain sites, such as Google and Digg, you can see thumbnail representations of the links on the current page; these appear in a pane that's located (by default) below the current site's content. You can also, however, use a Cover Flow-like view of these thumbnails, which is actually somewhat cool. A picture is worth a thousand words; click the image here for a full-size view of a Google search with its thumbnails displayed in Cover Flow mode.
Finally, your SSB's preferences also let you create shortcut keys to load certain URLs by typing just a few characters in the URL bar; and you can set preferences for security, tabs, and general features.
Once you've got everything set up the way you want it, just use your SSB as you would if you were viewing the specific Web site in a tab in your normal Web browser. The SSB will remember the size and position of your window between launches, so set it up exactly as you like—using Fluid is a great way to create separate browser windows, with different sizes and positions, for different sites.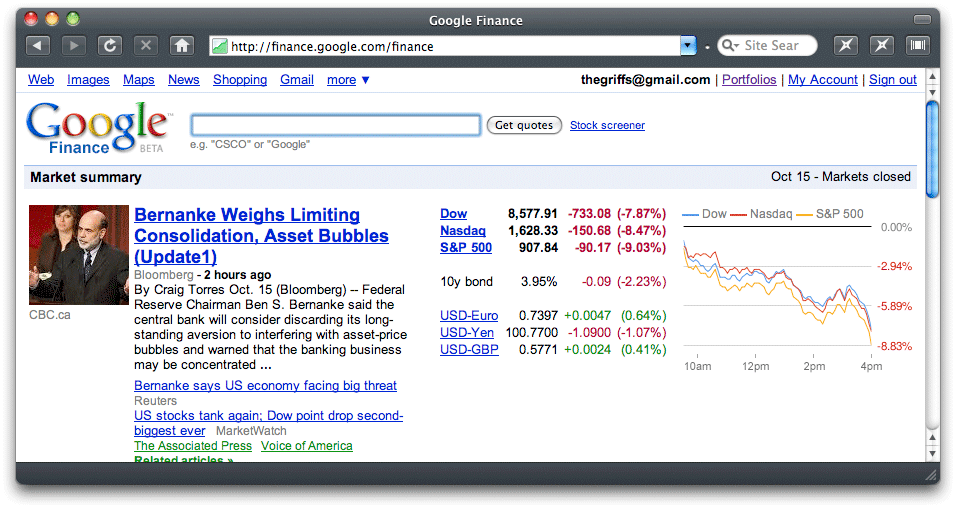 Seen at right, for instance, is my Google Finance SSB (click for a larger version). I have this window sized to simply show the day's summary chart (and today wasn't a good day!), along with the current lead story. I don't actually do much with this window other than keep the chart visible, so it doesn't matter that it's quite small. Because I created this as an SSB using Fluid, I can leave it running all day, even as I switch from Safari to Firefox to Camino and back during the course of the work day.
Fluid-created SSBs have one final trick up their sleeves: they can be installed as menu extras, instead of applications. That's right, you can browse a website from your main menu bar. This really only makes sense for a site that has a small "headlines only" view; for example, the Digg iPhone page. To create a menu-bar SSB, create the SSB as usual and then use the Convert to MenuExtraSSB command in the SSB's program menu. (There's also a Convert to Normal Application command, available by control/right-clicking on the menu bar icon for a menu-extra SSB, to return the SSB to normal mode.)
While I don't really want to have 30 to 40 SSBs—I still use tabs for the majority of my browsing—the ability to turn often-referenced sites (or flakey sites that cause browser crashes) into standalone applications can be very useful at times. I have about three sites I'm using in SSB mode now, and I can see adding a couple more in the future. Fluid makes the process basically painless, and has worked well with every site I've tried it on. If you're intrigued, give it a try—it's a free program, and it doesn't take long to set up an SSB for a trial run.
Fluid 0.9.4.1 requires Mac OS X 10.5 or later.