Line Rider—one of the more popular Flash-based game diversions—has come to the iPhone. InXile Entertainment offers it for $3, and it's worth the price of admission.
Line Rider iRide takes an exceedingly simple concept and makes it a fun game: You draw a downward slope, then click a "play" button to put a little toboggan rider at the very top. You don't have to limit yourself to just a downward slope, either—you can build ramps, loop-de-loops, and all other manners of obstacles and pitfalls for your little rider to explore.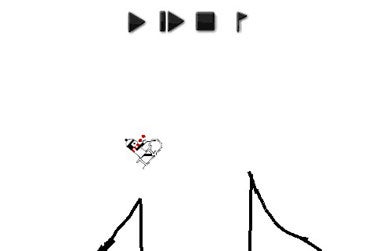 Bosh, the sledder in question, goes caroming around from place to place, occasionally nose diving into an ill-considered obstacle or flipping his sled over all together. Despite the simple line-based graphics, Line Rider is incredibly addictive.
What's more, the Flash-based version of the game has generated hundreds of user-made tracks, and you get access to them through the Line Rider iPhone and iPod touch game, so you can play back some of the more memorable (or highly-rated) tracks right away.
That online access requires an active Wi-Fi, EDGE or 3G connection and also requires an account, but Line Rider's developer has thoughtfully added a user account creation option from the log-in screen.
Browsing other user-made tracks lets you find "Most Recent" and "Top Rated." If you're a real Line Rider enthusiast and you're looking for a specific track or a specific track author, you can search for them too.
Some special details have been added to the iPhone version which you may not recognize from its Flash incarnation. The handy "Draw and Pan" option enables you to automatically switch between a drawing tool and a panning tool, because most often you're going to want to pan to a much larger space than the tiny iPhone screen can accommodate. You can zoom in and out by pinching and expanding your fingers; be warned, though, because as you zoom out, you'll quickly lose your ability to see the individual lines of your slope (it doesn't scale very clearly, as the line is so small to begin with).
Gravity Tilt lets you give Bosh a bit of help if he gets stuck on flat terrain—use the device's accelerometer to tilt him in the right direction. And Night Ride gives you a flashy black-on-white look.
Line Rider gives you plenty of drawing options, so you can get creative with your slope designs, switching between regular, acceleration and scenery terrain, drawing straight and curvy lines (there's no Bezier tool, yet), a flag tool that lets you save Bosh's last position if you want to start again from there, and a save/load tool.
There really isn't a lot more to Line Rider. There is no scoring or goals to reach—it's just a lot of fun to draw a course and send Bosh on his way down it, even if he crashes along the way. And once you've got a memorable design, it's great to share with other Line Rider enthusiasts by exporting them to the Line Rider Web site.
Line Rider is extremely simple, and extremely addictive, and sometimes that's all you need to keep you busy for hours. Like many fans of the Flash game I'm delighted to see Line Rider rebuilt for the iPhone, and at $3 I think it's a fair deal.
Line Rider is compatible with any iPhone or iPod touch running the iPhone 2.x software update.
[Senior editor Peter Cohen covers games for Macworld's Game Room.]