At a Glance
Expert's Rating
Pros
Bluetooth wireless connectivity frees up USB port
Carrying case included
Left-side thumb button can activate Exposé or Dashboard
Cons
No button-customization software
May not be heavy enough for some users
Some Windows-only features
Awkwardly positioned thumb button
Our Verdict
Frankly, there's not a whole heck of a lot to say about Microsoft's small, attractive Bluetooth Notebook Mouse 5000, other than that it's a competent wireless pointing device with little to move it ahead of other competent wireless pointing devices.
You wouldn't, however, come to that conclusion by reading the blurbs on the 5000's packaging or its Web site, which brag of a thumb-activated Back button "to easily navigate between folders and Web pages" and a scroll wheel–activated "AutoScroll" feature. I never did find out exactly how these worked, however, because after days of failing to get them up and running on different Macs, and after sending multiple emails to various Microsoft reps, I finally discovered that those two features are Windows-only. To make matters worse, you can't use Microsoft's powerful IntelliPoint mouse-customization software to bring them to life—the 5000 isn't compatible with it. Sigh…
Fortunately, though, you can use Mac OS X's Exposé & Spaces preference pane to assign Exposé actions or the launching of Dashboard to those vestigial buttons; the somewhat awkwardly placed thumb button acts as Mouse Button 4 and the scroll-wheel button as Mouse Button 3.
Other than that mild advantage, the 5000 is simply another Bluetooth mouse—a nice, compact mouse that comes with a nice, compact padded case. Because it is a Bluetooth mouse, you'll need a Bluetooth-equipped Mac to get it to work, but you won't need to fill up a precious USB port with an RF dongle as you would for other wireless mice. You will, however, have to put up with the 5000's occasional tendency to take a few seconds to wake up after having slipped off to sleep during extended periods of inactivity. Another Bluetooth drawback: Microsoft claims a battery life of only three months for the 5000, so remember to use the 5000's bottom-mounted on/off button.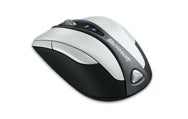 Ergonomically, the 5000 is a mixed bag. Its humpbacked design makes it easier to grip than many compact mice, but, at a mere three ounces with its two included AAA batteries, it may be too featherweight for some tastes. That said, the 5000's excellent 1,000 dpi laser tracking makes it a highly precise pointer-pusher that's useable on nearly any surface.
Macworld's buying advice
Microsoft's handsome, comfortable Bluetooth Notebook Mouse 5000 has little to recommend it other than the fact that it looks good, feels good, and does what little it sets out to do quite competently. If you're also running Windows on your Intel Mac, however, you might find it to be of more interest.
[Rik Myslewski has been writing about the Mac since 1989. He has been editor in chief of MacAddict (now Mac|Life), executive editor of MacUser and director of MacUser Labs, and executive producer of Macworld Live. His blog can be found at Myslewski.com.]