At a Glance
Expert's Rating
Cons
Clunky OCR software
No transparency- or slide-scanning
Our Verdict
Epson's WorkForce GT-1500 is a color document scanner designed to simplify the tedious task of scanning stacks of text documents in an office environment. Easy to use and simple in its focus, the GT-1500 does an adequate job of photo- and document-scanning.
The GT-1500 can quickly scan multiple sheets at a time thanks to an automatic document feeder (ADF) capable of holding as many as 40 sheets, as large as 8.5 by 14 inches. Although you're limited to a maximum scanning resolution of 600 dpi when using the ADF, the benefits of having an ADF are clear: Imagine having to scan a 40-page document manually-opening the lid and aligning each sheet of paper individually. That could take an hour, and if it's a task that's part of your regular work routine, those hours add up quickly. With the GT-1500, it takes only 40 seconds to scan ten pages and roughly three minutes for 40 pages.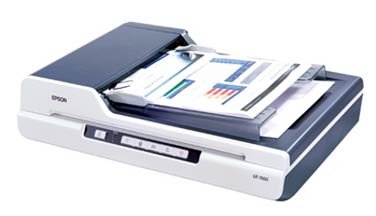 It's easy to scan documents and use the included Epson software to tweak the scans before you save to one of several file formats, including PDF. However, we found the included Abbyy FineReader Sprint Plus OCR software could turn TIFF files into text files, but it could only process one page at a time, rendering the ADF useless. Alternatively, you can batch scan documents as TIFF files using the EpsonScan software then process them individually afterward using the OCR software-but that's hardly convenient.
This is not a scanner meant for anyone looking to scan stacks of photos. The high-speed ADF is designed for text documents; photo-, transparency-, and slide-scanning are eschewed for a focus on multi-page documents and speed. Unfortunately, the GT-1500 can't scan both sides of a document in one pass as can the more expensive ScanSnap S510M ( ). Both scanners can handle documents as large as 8.5-by-14-inches, and both can scan on average about 18 pages per minute. But the ScanSnap can scan both sides of a page in the same amount of time it takes the GT-1500 to scan one side. If you have lots of double-sided documents, the ScanSnap is the better choice.
The scanner turned in some fast scanning times. As we mentioned earlier, the GT-1500 took 40 seconds to scan a ten-page single-sided text document. A scan of an 8-by-10 photo at 600 dpi and 24-bit color depth took only 35 seconds on average, about ten seconds faster than recently reviewed flatbed scanners such as Microtek's ArtixScan M1 Pro ( ). It took an additional 7 seconds for the same photo to scan when set at 48-bit color scanning. Our 4-by-6 photo scan test (set at 1,200 dpi) was equally impressive with both our 24- and 48-bit color scans taking about 60 to 70 seconds on average. We also found that the GT-1500 required almost no warm-up time, thanks to Epson's ReadyScan LED technology, which eliminates the need to warm up the internal lamp.
Although the GT-1500 is clearly designed to handle large volumes of documents, it does prove up to the task of handling photo-scanning as well. Both our grayscale and color photo-scans achieved Very Good image-quality rankings in our jury test, based on their strong color and high levels of detail. In fact, when compared with the photo-centric Epson Perfection V300 Photo, we found that both produced similar-quality scans.
Jury tests
| | |
| --- | --- |
| Color | Very Good |
| Clarity | Very Good |
Scale = Superior, Very Good, Good, Fair, Poor
Timed trials
| | |
| --- | --- |
| 8×10 photo 600 dpi 24 colors | 0:35 |
| 8X10 photo 600 dpi 48 colors | 0:42 |
| 4×6 photo 1200 dpi 24 colors | 4:25 |
| 4×6 photo 1200 dpi 48 colors | 2:12 |
Scale = Minutes: Seconds
Macworld's buying advice
The WorkForce GT-1500 is Epson's answer to the growing need in small businesses for a fast document-focused scanner that can scan multiple pages of text in short order. The results with photos weren't disappointing either, making the scanner more versatile than we expected. Unless you require film- and slide-scanning capabilities, this could be the scanner your home or office needs to eliminate those growing stacks of paper. However, if you're looking for a scanner purely dedicated to document-scanning and capable of handling double-sided documents, take a look at the ScanSnap S510M.
[Chris Holt is a Macworld assistant editor.]