Lyle Andrews has released MetaView, a new Mac OS X application that lets you view stock market data in 3D. It costs $49.95, and also requires a subscription to a special MetaView data feed, priced at $15 per month.
MetaView lets you group stocks to view in 3D. If you are grouping stocks you hold, you can enter the number of shares you have; MetaView will calculate the total value and display it in the main view. You can use a menu to view more information about individual stocks; save headlines and URLs of new stories for each stock; access Securities and Exchange Commission (SEC) filings and graph them by date; and enter historical events and assign them to groups.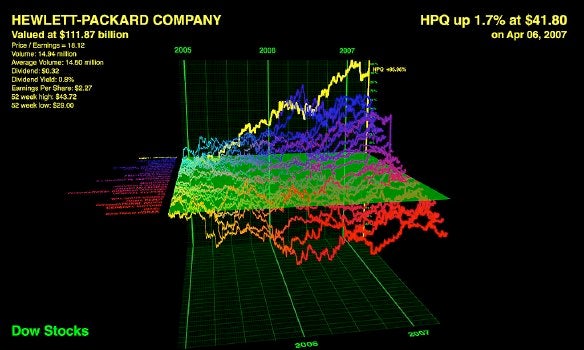 MetaView supports text to speech, so you can get an audible summary of each stock in a group. It also comes with a screensaver that shows the same view as the main window. Data is automatically downloaded for the U.S. market. You also can set up a customized download schedule.
System requirements call for Mac OS X 10.4 or later.