At a Glance
Expert's Rating
Our Verdict
There's no shortage of durable laptop bags—backpacks, messenger bags, briefcases, you name it—on the market. Unfortunately they're not always, well, pretty. As one of Macworld's resident dames, I volunteered to take some of the more feminine bags out for a spin with the various laptops we have here at Macworld HQ. Today I cover two of these "women's" bags; one turned out to be a real head turner and the other a much-needed back saver.
Pocket Full of 'Puter
The unfortunately named Pocket Full of 'Puter ($198) is a kicky and colorful take on the simple shoulder bag. By far the most stylish of those I've been testing, it's a young and appropriate look for students and sales reps alike. Measuring 14 by 12 by 4 inches on the outside, the case will hold your 15-inch MacBook Pro nicely. For a MacBook or MacBook Air, there's the Half Pocket Full of 'Puter ($149), which is just 13.6 by 9.5 by 2.8 inches. Both bags are made from a Teflon-coated felt material available in an array of stylish colors. They keep their shape thanks to a reinforced leather bottom and rigid edges, with slightly more malleable front and back walls; all sides provide a protective layer of foam. Each bag can be carried by the sturdy leather handle on top or the detachable, lightly-padded shoulder strap.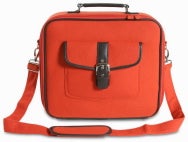 The inside of the Pocket Full of 'Puter is a simple affair that's deeper and more spacious that you might expect. You strap your computer down with twin Velcro straps and then pile any accessories or books on top. (Depending on what you're packing, a laptop sleeve might be a smart addition to prevent scratches to your laptop.) Additional storage options are minimal, however. The larger model has a sleeve for papers and one deep pocket inside the front flap. The smaller bag has a similar sleeve but a smaller, flat pocket. Outside, both models have a zippered compartment on the back and a decorative pocket on the front that's clasped shut with a magnetic snap disguised as a buckle.
The bag's thin, foam walls are sturdy enough to protect your laptop from a normal day's jostling and bumps, but not much more. If you're looking for a durable, rugged, take-it-outdoors-and-drop-kick-it-into-a-puddle-type bag, this isn't it. Additionally, unless you're a super-light packer, there aren't enough pockets in either bag to make it a plausible alternative to your daily purse or messenger bag. The felt is a great look and a welcome alternative to some of the harsher-looking laptop bags, but over time felt has the tendency to pill, especially where there's frequent friction (for example, where it hits your hip), so that may be an issue down the road. Finally, the design isn't ergonomic, but it's light enough to get away with it.
Like much of women's fashion, the Pocket Full of 'Puter is more about looks than function. The bags come in orange, blue, grey (full-size model only), green, and pink; the brightness of the colors is softened by the matte texture of the felt. Each uses brown leather for the trim, buckle, bottom, and handle. The inside of each is lined with a contrasting, patterned nylon, and several versions of the smaller model use the same decorative material for the external pocket. The Pocket Full of 'Puter keeps it simple and fun, and is a great way to tote your Mac around with class.
Contour Balance Notebook Case
An impressive amount of thought went into the design of the Contour Balance Notebook Case ($80). It's a large, accommodating, purse-style bag that manages to have a pocket for every imaginable knickknack (umbrella, water bottle, magazine) without being bulky. However, it's most notable design accomplishment is that it holds all these elements, plus your laptop, while being incredibly comfortable and ergonomic.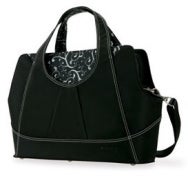 At the very center of the bag is a snug (13.6 by 10 by 1.6 inches) compartment for your MacBook, MacBook Air, or 15-inch Macbook Pro. The thorough padding and pockets that sandwich this compartment ensure that your computer will survive a mild hit, and help keep smaller notebooks from jostling around in the extra space. For the bag-droppers among us, Kensington reinforced the bottom of the case with something they mysteriously call the AirBrake cushioning system. (It appears to just be a significant layer of padding, which I was grateful for.)
The entire bag is 18 by 11.5 by 6 inches and weighs in at 2.7 pounds when empty. That's very light, especially considering that the Contour Balance is meant to be an all-in-one bag that replaces both your purse and your laptop case. The bag's best feature is that one side is smartly contoured to rest against your body without straining your back. When you're carrying all your belongings in one bag, attention to center of gravity is a must. The Contour Balance is incredibly well-thought-out in that respect, and it could be a good alternative for women who might normally opt for a backpack or rolling bag.
The look of the Contour Balance is simple, like a cross between a diaper bag and a tote. The external microfiber material, available in black or brown, seems tough enough to endure heavy use with minimal signs of wear. Unfortunately, the pleats, white sticking, and gaudy print accents are all overkill—this bag won't be taking home any pageant crowns. At least it's still unassuming enough to blend in, and given the amount of gear and personal items it holds, the protection it provides your laptop, and the all-around body-conscious design, that's a reasonable trade-off.