Resolute Games has announced the release of ThumStruck, a new music rhythm game for the iPhone. It's available as a free "preview" version from the App Store, but will be formally released in November for $4.99.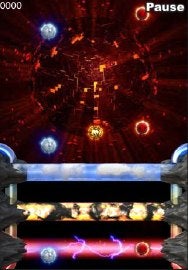 ThumStruck takes a page from Guitar Hero and Rock Band — or perhaps closer to home, Tap Tap Revenge on the iPhone — to provide users with a rhythm-based music game. You must match the elemental powers of Ice, Fire and Lightning — colored balls, or "elemental orbs" — with their corresponding colored lines, timed to the music. You can also earn more points by landing combination multipliers.
The game features music from Ardent Records band "Skillet." The full version coming in November will feature other Ardent Record musicians and original music by the American Guitar Institute, among others.
Thumstruck requires an iPhone or iPod touch with iPhone 2.1 software update or later.