At a Glance
Expert's Rating
Pros
Beautiful graphics
Lots of varied entertainment
Decent alt-rock soundtrack
Tons of vicious fun
Cons
Arcade action may not appeal to everyone
Our Verdict
A fun game is fun, no matter how long it takes to get to the Mac. So if you're going to start whining about how FlatOut 2 has been around forever, you can shut the hell up right now, because I don't want to hear it. FlatOut 2 is finally available for the Mac, and Virtual Programming earns a special reward in heaven for bringing it to us.
Ever since Carmageddon came on the scene in the late 1990s, there's been a special place in my heart for racing games that focus singularly on wholesale destruction. And Bugbear Entertainment, developers of FlatOut 2, clearly moved in that direction with this game series. Basically, your goal is to win a car race, smashing up your opponents and everything around you as best you can in the time allowed.
The single-player game prominently features a career mode, in which you're seeded with a small amount of money, enough to buy you a very basic beater in rough shape. Your ultimate goal is to race a few laps around different tracks and place high enough to win a gold, silver or bronze cup. You can get cash awards for smashing the snot out of your opponents, blasting objects that line the tracks like traffic pylons, fences and other objects, taking big jumps and more. The better you do, the more money you'll make, and the more cars you'll unlock. You can also reinforce your ride with better drivetrain, suspension and steering components, which pays off in the long run because the more you play, the more vicious your opponents get.
As you win races you'll also unlock other events like demolition derbies and figure eight races-do well in those and you'll also win money, fame and glory that you can plow back into your garage.
FlatOut 2 features ragdoll physics. Occasionally, you and the other drivers will have a particularly bad crash and will get ejected out the windshield like a spitball in a school lunch straw. It's always grim comic relief when it happens (especially with the accompanying scream), but FlatOut 2 takes this concept a step further by offering you a whole host of stunt races that play out like vicious, Death Race versions of real sports. Bowling, for example, has you plummeting down a track in a jet-powered car, where you wait until the last possible moment before ejecting your driver out the front. You must nudge and push his limp body as it sails in the air, crashing into a giant tenpin array located yards away. The High Jumping stunt race is about what you'd expect. As for the Dartboard stunt race…well, the less said the better. You catch my drift. It's hilarious, sickening fun. Amazingly, though the ragdoll physics and crunching noises when bodies hit pavement may make you wince, there's no blood-that's probably why the ESRB gave FlatOut 2 a Teen rating ( PEGI, the European equivalent of the ESRB, rated FlatOut 2 12+).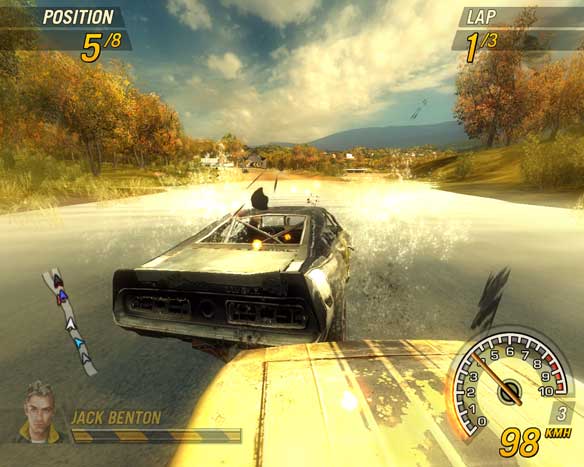 FlatOut 2 deserves credit for having very realistic graphics, straight down to lens flare from the setting sun and damage modeling. None of the cars you see are real world models, so you can knock doors off, destroy hoods and tailgates and the rest. Eventually, if you're lucky, you'll be barreling down the track in little more than a rollcage and a motor, and, hopefully, four wobbly wheels still attached to axles.
The game also has a punchy alt-rock soundtrack that sounds like a College Radio Hits of 2006 collection: Fall Out Boy, Papa Roach, Rob Zombie and Wolfmother, among many others.
The game also features a multiplayer mode, and for what it's worth, you can compete against PC players of Flatout 2; it's all managed through GameSpy, the multiplatform game matching service. FlatOut 2 also features a Party Mode that lets multiple players take turns on a single computer, and LAN-based gaming if you're playing FlatOut 2 during a LAN party.
This is a real step in a different direction for Virtual Programming, and I'm happy to see it. The U.K.-based Mac game publisher has been happily serving a niche of turn-based strategy game players with plenty of Mac conversions of Paradox Interactive titles like Europa Universalis. FlatOut 2 has a lot more mainstream appeal, and I'm happy to see Virtual Programming take a chance on it.
By the way, FlatOut 2, like an increasing number of newer Mac games, eschews PowerPC support (it's not a Cider conversion, if that sort of thing worries you). You'll need an Intel processor and something faster than an Intel GMA 950 graphics chip for acceptable performance.
FlatOut 2, like most of UK-based Virtual Programming's inventory, can be purchased and downloaded using Deliver2Mac, an online download site, so you don't have to wait days or weeks to order a DVD and have it shipped from across the pond.
Macworld's buying advice
If you're looking for the hyper-realism of a NASCAR game or Colin McRae Rally Mac ( ), you're bound to be disappointed-FlatOut 2 has a very arcade-like look and feel to it that will disappoint racing purists. But its sheer bloodthirsty combat, high-speed racing and tons of mini-games give you a lot to see and do.
[Peter Cohen is a Macworld senior editor.]