Apple's newest MacBooks perform markedly better than their predecessors, particularly when it comes to 3-D games. But perhaps the most interesting discovery in the first of a series of tests involving Apple's revamped laptop line is how well the new MacBooks perform when compared to the updated MacBook Pro offerings. In fact, in our Speedmark 5 performance tests, the latest 2.4GHz MacBook within a few points of the Speedmark score of the new entry-level MacBook Pro—a 2.4GHz laptop that costs $400 more than the $1,599 MacBook.
Apple unveiled updates to both MacBooks and MacBook Pros at a press event at its headquarters this past Tuesday. We plan to conduct more tests on these new systems—how they perform, what their battery life is like, and what impact the new graphics processors have on the way these notebooks tackle graphically intensive tasks—and we'll publish our results as they become available. In this first report, however, we're going to focus on the performance of the revamped MacBook laptops.
The new MacBook line consists of two new aluminum models running at 2.4GHz ($1,599) and 2GHz ($1,299). Apple retained the previously available white plastic MacBook powered by a 2.1GHz Core 2 Duo chip and now featuring an upgraded optical drive; it costs $999.
In the past, one of the biggest differentiators between Apple's consumer-targeted portables and the more powerful MacBook Pros has been the graphics capabilities of the respective computers. Previous MacBook models shipped with integrated graphics, in which an Intel GMA X3100 graphics processor shared memory with the system RAM.
The Nvidia GeForce 9400M graphics in the new MacBooks still shares memory, but it has its own graphics processing unit (and the 9400M shares 256MB of the MacBook's fast DDR3 SDRAM main memory, as opposed to 144MB DDR2 SDRAM in the previous system).
Aluminum MacBook Benchmarks
| | Speedmark 5 | Adobe Photoshop CS3 | Cinema 4D XL 10.5 | Compressor | iMovie HD | iTunes 7.7 | Quake 4 | Finder | Finder |
| --- | --- | --- | --- | --- | --- | --- | --- | --- | --- |
| | OVERALL SCORE | SUITE | RENDER | MPEG ENCODE | AGED EFFECT | MP3 ENCODE | FRAME RATE | ZIP ARCHIVE | UNZIP ARCHIVE |
| MacBook Core 2 Duo/2.4GHz (Aluminum) | 212 | 1:05 | 0:54 | 1:52 | 0:49 | 1:03 | 39.4 | 4:59 | 1:32 |
| MacBook Core 2 Duo/2GHz (Aluminum) | 195 | 1:08 | 1:07 | 2:10 | 0:55 | 1:11 | 38.7 | 5:34 | 1:24 |
| MacBook Core 2 Duo/2.1GHz (White, Current) | 181 | 1:17 | 0:53 | 2:07 | 0:55 | 1:10 | 7.6 | 5:25 | 1:41 |
| MacBook Core 2 Duo/2.4GHz (White, Feb 2008) | 190 | 1:15 | 0:53 | 1:57 | 0:48 | 1:05 | 7.6 | 5:03 | 1:38 |
| MacBook Pro Core 2 Duo/2.4GHz (15-inch, Unibody)* | 215 | 1:07 | 0:54 | 1:53 | 0:49 | 1:04 | 58.9 | 5:05 | 1:18 |
| PowerBook G4/1.67 GHz | 91 | 3:02 | 3:57 | 7:47 | 1:59 | 2:26 | 19.9 | 7:14 | 2:21 |
| | >Better | | | | | | >Better | | |
Best results in bold. Reference systems in italics. * denotes testing was conducted using the MacBook Pro's Nvidia 9600M GT graphics.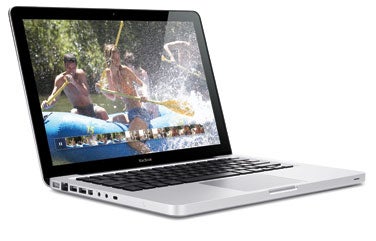 You can thank that Nvidia chip for closing the performance gap between the new MacBooks and the MacBook Pro. The 2.4GHz MacBook with Nvidia graphics was able to crank out over 39 frames per second in our standard Quake tests. That may not seem like something to crow about, until you compare it with the old 2.4GHz MacBook with the GMA X3100—that system managed a meager 7.6 frames-per-second in the same tests. So there really has been some remarkable progress made in this area.
The graphics in the new MacBook Pros also saw improvement. When we switched from the 9400M to the MacBook Pro's second GPU, the Nvidia GeForce 9600M GT, we saw an extra graphical push. The 9600M GT helped the 2.4GHz MacBook Pro get a respectable 58.9 frames per second in our Quake 4 tests. We're currently running more graphics tests and will have a more in-depth report online shortly.
So with graphics now on more equal footing, the new differentiator between the MacBook and MacBook Pro is the former's lack of FireWire ports. The MacBook sports a pair of USB 2.0 ports, and while USB is everywhere, for many users, the absence of FireWire is a deal breaker. I have to admit, I'm really unhappy about this, too. USB is slower, doesn't offer the convenience of FireWire Target Disk Mode for easy system migration (a task I perform countless times a year), MiniDV Camcorder transfers into iMovie HD will become much more difficult, and the speed of USB 2.0 pales in comparison to FireWire 400 on the Mac. And without a card slot to add this functionality, it appears that users will once again have to decide between having a smaller and lighter system and having basic Mac functionality. We'll be running some USB 2.0 vs FireWire tests shortly and will report to you our findings.
Comparing the top of line 2.4GHz MacBook to its less expensive, lower-powered 2GHz sibling, we find the high-end model nearly 9 percent faster in overall Speedmark performance, with narrower performance gaps in graphics tests and wider gaps in processor tests, like Cinema 4D. Speaking of Cinema4D, we've just received Cinema4D R11 and we'll be adding that application to our testing repertoire soon.
As far as other results, we've included a bunch of reference systems here for you to ponder, including the last PowerPC Pro portable—a PowerBook G4 1.67GHz whose Speedmark score of 91 was about half of the entry level MacBook 2.1GHz's score of 181. Some processor-intensive tests took three to four times longer to complete on the PowerBook than the entry level MacBook 2.1GHz.
Check back often for more Mac portable coverage, including our full reviews of these the MacBook models and the rest of the newly unveiled product line.
[James Galbraith is Macworld Lab director.]