When the App Store opened its virtual doors in July, Tetris was one of EA Mobile's first iPhone-geared efforts—and it showed. My review of Tetris suggested that iPhone users should probably take a pass on the iPhone version of the classic puzzle game.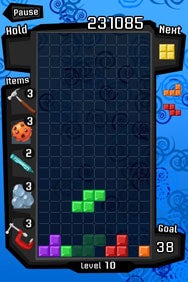 In the ensuing three months, we've seen some updates to both the game itself as well as the iPhone software. And now that I've had the chance to try Tetris again under these newly optimal circumstances, I'm happy to report a very different experience with the game.
First off, the game will cost you less if you held off on buying it. Tetris now sells for $8, down $2 from the $10 price tag of the game I reviewed in July. At $8, it's still no bargain, but EA has adjusted the price to reflect the going rate for other "premium" games from major publishers at the App Store. I'd still like to see the price drop a bit—perhaps to $5, which is what Tetris for color-screen iPods costs.
The App Store lists the current version number as 1.0.86, meaning EA Mobile hasn't messed with Tetris too much. By their own admission however, the company has improved game stability and sound quality, among other things.
That claim was definitely borne out by my tests. I originally said that Tetris was "one of my most trouble-prone iPhone gaming experiences." I admit (and said at the time) that Apple's iPhone 2.0 software update was plagued with similar problems, but Tetris was more prone to exhibiting those problems than other apps I downloaded, and it looks like I was right: EA Mobile updated the app to fix that problem. Sound cut out on me when I originally looked at the game, but that doesn't appear to be an issue anymore: sound effects and music were just fine in this release.
EA Mobile's Web site for support remains a bit of a mess. You have to register to ask a question, unless one of the canned FAQss posted to the site. But I'm happy to see the company update it site to take the iPhone into account—it wasn't that way when I first checked back in July.
All things considered, I'm happy with the changes to Tetris, and I've adjusted my rating accordingly.
Tetris is compatible with any iPhone or iPod touch running the iPhone 2.x software update.
[Senior editor Peter Cohen writes the Game Room column.]