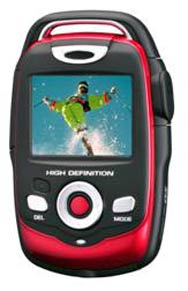 DXG today released the DXG-125V, a new addition to the company's affordable camcorder line. Priced at $140, the DXG-125V captures high definition video and sports a weatherproof design.
The DXG-125V has a native video resolution of 720p and captures at a rate of 30 frames per second. Videos are saved in H.264 format to SD card and the camcorder also has 128MB of internal memory. The DXG-125V has a two-inch LCD and 2X digital zoom. Still photos are taken at 3-megapixel resolution.
DXG designed the camcorder for sports and outdoor activities. The rubber handgrip provides shock protection. According to DXG, the splash-proof exterior can withstand small amount of moisture, and the camcorder can also be used as an MP3 player. DXG also includes a carabiner clip and a compass.
Connectivity options include an HDMI port for connecting to a HDTV, an AV port that connects to the composite connectors of a TV, and a USB port for connecting to a computer. The bundled software is for Windows only, but videos can be copied in the Finder and used in iMovie.
[Editor's note: Updated 9/17/09 at 9:40 AM PST to include video file format.]