Hey Mac Software on Monday announced the release of Briefcase, a file transfer software utility for the iPhone. It's available from the App Store for $4.99; a free "Lite" version is also available.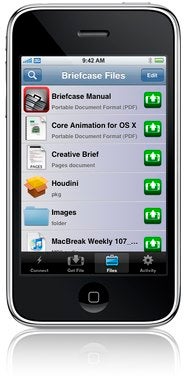 Briefcase enables you to transfer files from iPhone to iPhone without using any cables and without having to switch back and forth from the Mac to the iPhone. It uses Bonjour zero-configuration networking technology to locate, connect and browse computers and iPhones. You can connect to any machine that supports Secure Shell (SSH). You can download files and directories, view files, and upload them.
Files downloaded from a Mac running Leopard display thumbnails using QuickLook; You can also scroll through large documents using a document slider. A tab bar icon for activity will display information while uploading or downloading files and directories.
Briefcase Lite can connect to and browse machines, but can't download directories.
Briefcase requires an iPhone or iPod touch running iPhone 2.0 software or later.