At a Glance
Expert's Rating
Pros
Stunning graphics
Rich story
Cons
Some very challenging missions
Steep hardware demands
Our Verdict
The first-person shooter genre is pretty stale in the gaming world these days. Uninspired gunplay, interchangeable macho marine protagonists, and clichéd stories gave rise to legendary titles like Doom and Wolfenstein 3D, but now such devices have diluted the genre. Call of Duty 4: Modern Warfare draws its influence not only from landmarks of the genre, but also from Tom Clancy novels, international politics, and the realism of modern warfare. From its visually stunning beginning to its emotionally wrenching ending, this is a surprisingly deep, rich, and unique approach to the first-person shooter.
CoD 4 is the fourth installment of the popular series and the first chapter set in the modern age. Diverse missions, lush environments, a variety of weapons, challenging goals, solid multiplayer mode and a well-paced story, makes this not only one of the best shooters of the year, but one of the best of all time. (For the purposes of this review I tested the version 1.5 of the game. Since writing the review, version 1.7 has been released, offering new maps and other new features to the game.)
Instead of inhabiting the body of a generic marine with a shaved head and a bad attitude (see Crysis or Turok, for example) you play as several characters whose stories are interrelated. You start out as a British SAS officer nicknamed Soap, and then later hop into the body of a U.S. Marine stationed in an unnamed Middle Eastern country (an obvious Iraq stand-in). Through the course of the story, you'll also inhabit the body of a gunship pilot and a British sniper sneaking around Chernobyl. Missions are varied and get increasingly challenging, especially during the later hours.
The opening credits deserve mention here too, because you are introduced to the crisis by witnessing the assassination of a Middle Eastern nation's president, from his perspective. It's rare to see a war game that punctures the monotony of combat to actually have an emotional impact on the player, but CoD 4 is paced in such a way to have some truly devastating moments as you grow more accustomed to the world and attached to your comrades.
The system requirements for CoD 4 seem pretty pedestrian (2.4 GHz Core 2 Duo and Nvidia GeForce FX 7300) but you'll want to have a faster system and a better card if you really want to take advantage of the visuals. I ran CoD 4 on a 2.66 GHz Core 2 Duo with a Nvidia GeForce FX 7300 card and even when I cranked up the settings and suffered through sluggish frame rates, it still didn't look as clean as it should. This is a game that really takes advantage of a better system; its graphics are so realistic, it feels like you're in the movie Black Hawk Down.
During the prologue, you land on a cargo ship in a rainstorm and dispatch terrorists as water pours onto the ship-the water, the lighting in the bulkheads, even the echoes in the ship's hull are rendered with such detail you'd think you were getting seasick.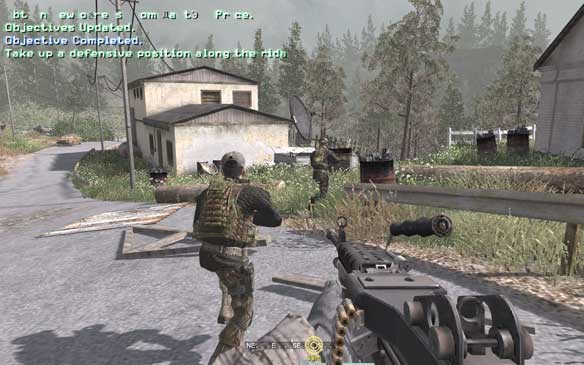 CoD 4 is a very linear game, which runs counter to the current push in the industry for more open-ended game play à la Grand Theft Auto. While you'll have a variety of weapons at your disposal and can dispatch the terrorists you encounter however you like, your path is fairly straight and the game mandates that you follow the script for certain key moments. In one mission, you must take out enemy tanks using a missile launcher. You can try shooting at them with your pistol if you want, but the radio transmissions will get more and more urgent until you pick up that javelin. Instead of feeling constrained, I found such moments added to the story and were actions worthy of my time. Yes, in the real world it's unrealistic to expect the new recruit to play gunner on the chopper and later be tasked with using C4 to take out a bunker, but CoD 4 effectively lets you have your cake and eat it too.
The drawback of course is that there are only a limited number of ways to surpass certain obstacles, making the later missions (especially the Chernobyl one) brutally difficult. For good and bad, the enemy AI (artificial intelligence) is the best I've seen. Enemies will flank you, go for cover, and try to flush you out with grenades. The checkpoint save system can be irritating if you're in the middle of a prolonged firefight and have to keep reloading it from the beginning every time you die, but it's part of the challenge and really the only quibble you'll have about the single player mode.
Mac users should look forward to experiencing the same intensive multiplayer experience as PC users; CoD 4 servers are cross-platform. The multiplayer mode faithfully recreates the frantic difficulty of the single player with some nice multiplayer-only features. After dying, the camera shows a replay from your opponent's perspective-it's not only a cool way to learn how better players stalk they prey, it also reveals their positions.
Multiplayer profiles are organized by classes, such as Assault and Sniper. The more you play, the more weapons, bonuses, and ranks you can unlock. I was afraid that this would create balance issues where experienced players would overpower noobs-not true. Though some of the best guns in the game are unlocked after hours of playing, when you first start playing you're not being sent out there with spears and cardboard armor. If you learn how to use each class's strengths to your advantage, you can take on even the most experienced player. And if you rack up a certain number of kills without dying in a single round, you can call in a helicopter or air strike.
Macworld's buying advice
Call of Duty 4 deftly balances cinematic action with intuitive and challenging game play. Emotionally devastating and visually engrossing, this is one of the most beautiful, grittiest, and well-written games to come out in the past five years. Anything more realistic would probably require you to be enlisted.
[Chris Holt is a Macworld assistant editor.]