Mark/Space, makers of the Missing Sync line of data synchronization software, on Monday announced the release of Fliq, a free application for the iPhone and iPod touch now available for download from the App Store.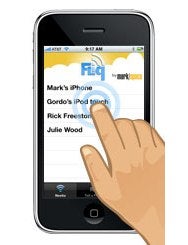 Fliq is billed as a "social networking application" for iPhone and iPod touch users in close proximity to each other. Two devices running Fliq can send, or "beam" photos and contacts to one another.
You don't need to e-mail, text or IM each other; the software is a stand-alone application that enables anyone to sync up and share photos and contacts with other users on the same Wi-Fi network.
Fliq is compatible with iPhone and iPod touch systems that have been updated with iPhone 2.1 software.