Marware has introduced the Eco-Runner, what the company bills as an "environmentally friendly" case for the fourth-generation iPod nano. It costs $34.99.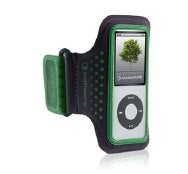 The Eco-Runner is a wrist or armband case for the iPod nano designed to work with both the fourth-generation nano and the Nike+ Sport Kit receiver. It's made of an "environmentally friendly" material instead of neoprene, according to Marware, and incorporates a clear vinyl cover to protect the iPod nano's screen and clickwheel.
The case features an attached wristband and an armband extension and, perhaps predictably, comes in green.