Weightbot is a new application for people dieting or training who need to keep track of their weight loss (or gain). It's available for download now from the App Store and costs $1.99.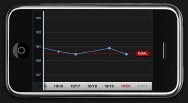 After you set your goal weight, you can record your weight at any interval. Weightbot helps you measure your Body Mass Index (BMI) — a formula used to measure a person's potential ideal weight based on height — and observe your progress on a graph. Weightbot can be password protected as well.
The application lets you view your weight over time, can toggle between pounds and kilograms and feet and centimeters, and sports custom sound effects.
Weightbot is compatible with iPhones and iPod touch devices with iPhone 2.1 software installed.