Editor's Note: This story is excerpted from Computerworld. For more Mac coverage, visit Computerworld's Macintosh Knowledge Center.
After two months of ad silence, Apple has finally responded to Microsoft's $300 million Windows image makeover campaign with two new ads that poke fun at Microsoft's TV ads.
The move is a departure from Apple's usual tactics during its two-years-and-counting TV campaign, which has been to mock problems in the Vista operating system itself.
While reaction to the ads on YouTube and elsewhere is mixed-to-positive, many tech bloggers feel that the latest ads have brought the back-and-forth sniping between the two companies to a new, undesirable level of 'inside baseball.'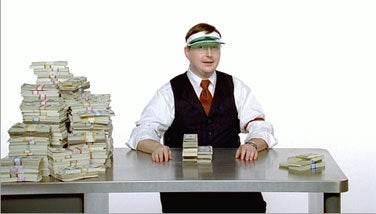 One Apple ad, entitled 'Bean Counter,' "appears to assume that you care about Micorosft advertising budgets, and the second one [entitled 'The 'V' Word'] doesn't make much sense at all unless you've noticed the downplaying of Vista in recent Microsoft ads," wrote former PCWorld editor, Harry McCracken. "Both bash Vista without saying anything positive about the Mac, and they bash it for its promotion as much as for the product that's being promoted."
"It's getting dirty out there folks—we haven't seen a smear campaign like this since, well, Obama and McCain," Zach Epstein wrote in his Boy Genius Report blog. "The bottom line is that the whole thing is getting old. Sure, fanboys will still snicker at Justin Long and all of his snappy zingers, but you don't need to sell fanboys now, do you Apple? …It might be best to get rolling with a new campaign before Justin Long becomes the next Aflac duck or Geico gecko—you know, so hated that people actually vow never to give those companies a single dollar as a result."
Microsoft declined to comment on Apple's latest ads.
When Microsoft released its first 'I'm a PC' ad last month after its controversial Seinfeld-Gates 'teaser' ads, it referred to Apple's 'Get a Mac' television campaign by including a lookalike to the frumpy 'PC' character whose line was, "Hello, I'm a PC, and I've been made into a stereotype."
Microsoft otherwise took the high road, resisting the temptation to directly attack its smaller tormenter in its ad.
"It's Marketing 101. It clearly makes sense for the No. 2 guy to pick a fight with the No. 1 guy," Eric Hollreiser, director of corporate communications for Microsoft told Computerworld last month. "There were some pervasive misperceptions that we needed to address. It's unmistakeable that we will focus on them. But we will quickly pivot to the positive values of Windows."