Edmund McMillen, creator of the Flash game Aether and the indie physics-based platform game Gish, has teamed up with Jonathan Mcenee to create a new "old-school" platform action game called Meat Boy. It's available for online play and free download; it requires Flash Player in order to run.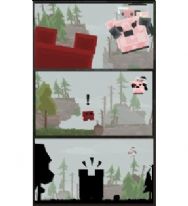 Meat Boy is the protagonist of the game. A chunky block of meat with a face and appendages, he must rescue his girlfriend, Bandaid Girl, from the clutches of the bad guy. To that end, Meat Boy must travel through more than 56 levels spanning four chapters. A level editor is built into the game.
McMillen describes the game as in the same vein as "classic" platforms such as Ghosts and Goblins, Mega Man and N. In this, however, you're a skinless bag of meat who leaves a trail of gore wherever he goes. It makes for some interesting action as you try to reunite Meat Boy with Bandaid Girl once and for all.
Extras include four unlockable player characters, 10 unlockable bonus levels, and a fully animated ending and hidden epilogue.