At a Glance
Expert's Rating
Pros
Good for emphasizing stereo separation
Three-port powered USB hub
Decent sound
Cons
Muddy bass
Bulky for a compact device
USB audio only, no audio-in port for other devices
Our Verdict
Apple's top selling Macs are laptops, but many of those have a semi-permanent home on a desk, like a desktop Mac. Logitech's AudioHub is a compact, desktop speaker system for your laptop that aims to enhance your movie watching and music listening.
The AudioHub's main section, which hosts a 3-inch woofer, rests behind your laptop; a pair of 2-inch tweeters extend to peek from behind the edges of your laptop. Measuring 20-by-3.75-by-5.25 inches when the speakers are fully extended (17-inches wide when the speakers are not extended).

The AudioHub has only a USB connector for grabbing USB audio from your computer; there's no line-in for plugging into your laptop's audio out port, or to connect an iPod, iPhone, or other audio device. The AudioHub isn't bus-powered, either; it requires the use of a power adapter. But the speaker does have a three-port powered USB hub for connecting other peripherals.
As far as sound quality, the AudioHub creates a full, warm sound, but bass sounds muddy. For movies and video the AudioHub sounds good, but if you like music with a lot of bass, the AudioHub's lack of bass definition may disappoint.
The AudioHub provides a substantial power boost over the built-in speakers of the 2.33GHz Core 2 Duo MacBook Pro I used for testing. The built-in speakers are ideal for when you're sitting directly in front of your laptop, while the AudioHub volume is loud enough to allow you to sit back 7 to 10 feet on a couch while a video plays. (Because the AudioHub is a USB audio device, you can't use it and the built-in speakers at the same time.)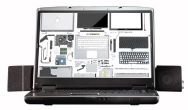 The other major improvement over the built-in laptop speakers is with stereo separation. Because the AudioHub speakers are farther apart than the laptop speakers, stereo separation is much more noticeable, especially when watching movies.
Macworld's buying advice
It's too big to carry around with your on trips, but if you often use your laptop at your desk, the AudioHub can enhance your experience when watching videos or listening to music without taking up a lot of desktop space. If you're nitpicky about sound quality, you can probably find better sounding speakers at a competitive price.
[Roman Loyola is a Macworld senior editor.]