At a Glance
Expert's Rating
Pros
Wired and wireless network connectivity
7.8-inch touch screen
Beautiful photo prints
Cons
Paper trays feel flimsy
Text on plain paper could be cleaner
Wireless scanning quirks
Our Verdict
The Artisan 800 from Epson is a photo ink-jet multifunction device that can print, scan, copy, fax, and print directly onto ink-jet printable optical discs like CD-Rs and DVD-Rs. You can connect the Artisan 800 to your Mac via USB 2.0, Ethernet, or over 802.11g wireless. We had difficulty scanning over a wireless connection, and the text printing on plain paper can't be classified as laser sharp, but the photo prints and photographic copy quality will attract avid shutterbugs willing to look the other way on those small annoyances.
Physically similar to Epson's WorkForce multifunction devices, the Artisan 800 is an attractive unit with a combination of shiny and flat black surfaces with silver accents. Its most distinguishing feature is its large 7.8-inch touchscreen, which allows you to navigate the menus and settings, dial fax numbers, and view and edit 3.5-inch previews of photos from inserted camera cards or USB thumb drives.
The device has two paper trays, one for holding up to 120 sheets of plain paper as large as 8.5 by 14 inches, and one for either 4-by-6 or 5-by-7 photo paper. You can choose between printing snapshots and printing regular documents without going to the printer to load the proper paper. The trays themselves feel flimsy, as does the folding paper output tray.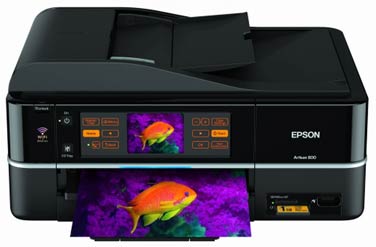 The scanner has a maximum 4,800 dpi optical resolution, with an 8.5 by 11.7-inch flatbed. Legal-sized documents can be scanned when using the 30-sheet, automatic document feeder built into the lid. Though the Aritisan 800 lacks 48-bit output, our tests scans were of Very Good quality, with pleasing and fairly accurate colors tending a bit towards red and missing some shadow detail in darker areas. Handy buttons let you save your scan as an image file, send it to your email program, save the scan as a PDF, or scan to text using the included OCR software. Scan times were respectable with an 8 by 10, 600 dpi scan taking about 30 seconds to complete when connected directly via USB 2.0.
We were able to scan from our Mac Pro over USB 2.0, and Ethernet without any issues. However, we did have trouble initiating scans from the unit and having it show up on our computer over a wireless network. Epson offered a couple of ideas on how to get this working, but we were never able to. This "push" scanning feature has been an issue with many wireless MFPs; many manufacturers won't even attempt to support the capability, while others offer inelegant workarounds, so I won't be too hard on Epson for being one of many to struggle with this feature.
The Artisan 800 uses six dye-based inks (black, cyan, light cyan, yellow, magenta, and light magenta in individual tanks), to print great looking photographs. Prints of our picnic color photograph test file showed no visible dots, great detail, and near perfect color matching. Plain paper printing wasn't as stellar, with text lacking sharpness due to ink bleeding into the paper-the text was still very legible, just not as sharp and clean as a laser printer or some other inkjets.
Plain paper test times were fast, with a single page taking about 13 seconds and a 10-page Word document taking only 1 minute, 22 seconds to complete. The Artisan 800 doesn't offer automatic double-sided printing standard, but Epson sells a $30 optional duplexer for that function. We were not able to test this add-on.
The Artisan 800 also offers copy capabilities, and, as you might imagine, the results reflect the problems and strengths mentioned above. Copying a photograph onto photo paper worked very well, with excellent color reproduction and just a little loss of depth and clarity of the original photo. Plain paper copying wasn't quite as good. A copy of a magazine cover onto plain paper looked OK, but not as good as some other multifunction devices we've tested, with blacks not quite as solid and bold and lines not as sharp and clean.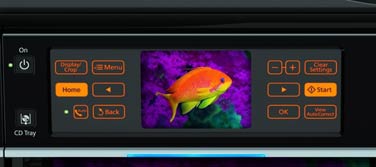 Faxing may seem like outdated technology these days, but I speak from experience that not having one can cause a real headache when dealing with bank transactions, home purchases, etc. The FedEx Office (neé Kinko's) charges $1.42 per page for a local fax; prices vary for long distance. Once, I had 40 or 50 pages to fax and seriously considered going out and purchasing a stand-alone fax machine just for this one situation. The Artisan 800's built-in fax machine allows you to send and receive monochrome or color fax, uses a 33.6Kbps modem and can store up to 180 pages in memory and keep up to 60 speed dial numbers handy.
Timed trials: Print
| | |
| --- | --- |
| 10-page Word test (normal) | 1:22 |
| 1-page Word test (normal) | 0:13 |
| 22MB Photoshop image (best) | 2:21 |
| 4-page PDF (normal) | 2:12 |
Scale = Minutes: Seconds
Timed trials: Scan
| | |
| --- | --- |
| 8-by-10-inch photo, 600dpi scan, 24-bit | 0:31 |
| 4-by-6-inch photo, 1,200 dpi scan, 24-bit | 1:14 |
Scale = Minutes: Seconds
Jury tests: Print
| | |
| --- | --- |
| Graphics: Fine Lines and Gradients | Very good |
| 22MB Photoshop image quality | Superior |
| Text Quality | Good |
Scale = Superior, Very Good, Good, Fair, Poor
Jury tests: Scan
| | |
| --- | --- |
| Color | Very Good |
| Clarity | Very Good |
| Copy | Very Good |
Scale = Superior, Very Good, Good, Fair, Poor
Specifications
| | |
| --- | --- |
| Print Resolution | 5760 by 1440 dpi |
| Scan Resolution-Optical | 4800 dpi |
| Max Scanning Bit Depth (output) | 24-bit |
| Connection | USB 2.0, 10/100 Ethernet, 802.11 b/g compatible with n. |
| Paper Sizes | letter, legal |
| Cost to replace ink/toner | $37 (black= $16, tri-color= $21) |
| Weight | 12.5 lbs |
| Dimensions | 9 X 19.4 X 15.2 |
| Paper Capacity | 100 |
| Special Features | 7.8-inch touch panel with 3.5-inch preview LCD; Wired and wireless ethernet connectivity |
Macworld's buying advice
The Artisan 800 makes perfect sense for those looking primarily for a photo printer, copier and scanner. Its plain paper print quality isn't great, but absolutely fine for personal and casual use, and its fully functioning fax machine and network connection options are nice to have features. If you can live without faxing, automatic document feeder and the nifty touch screen, the otherwise identical Artisan 700 costs $100 less.
[James Galbraith is Macworld's lab director.]