Editor's Note: The following article is reprinted from the Digital Focus blog at PC World.com.
I've been using programs like Adobe Photoshop and Photoshop Elements, and Corel Paint Shop Pro for so many years that I sometimes have trouble remembering what photography was like before the digital age. But none of those programs have ever felt like a truly natural part of the photo process to me. When I see something I want to tweak, adjust, composite, or fix, I'll open a program like Photoshop, load the image, and do my work. When I'm done, I close Photoshop and move on. In that sense, my photo editor is sort of like an auto repair shop that I pull my car into; it gets the job done, but I don't leave my car there all the time.
Adobe Photoshop Lightroom—particularly the new Lightroom 2—feels more like my living room. I am happy to stay there all the time, viewing and organize my photos from within its comfortable and logical interface.
You might wonder how Lightroom is different from more traditional photo editors like Photoshop. You can think of Lightroom as a photo editing program designed from the ground up for digital photographers, freed from the somewhat arcane graphical design roots of older programs like Photoshop and Corel Paint Shop Pro. Indeed, Photoshop and its peers are intimidating to learn because of their dense assortment of tools (selection brushes, erasers, text and shape stamps, dodge and burn tools, and more). Lightroom dispenses with all that stuff. Of course, that means Lightroom doesn't have high-end features like sophisticated multiphoto compositing. But by the same token, exposure adjustments are such a natural process in Lightroom, you don't have to understand anything about the image masks that happen invisibly behind the scenes.
You can read PC World's complete review for details, but this week I thought I'll focus on the five aspects of this program that will interest any serious photographer. Adobe offers a free 30-day trial so you can see if the program is right for you.
1. Lightroom Encourages a Workflow Routine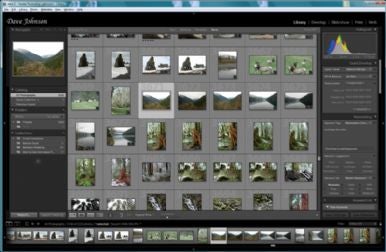 Lightroom is an integrated photo organizer and photo editor, and as such it makes it a snap to browse your photos, notice something—a photo that needs slight cropping, an overexposed sky, you name it—and immediately make the change.
And unlike other programs in which there are integrated organizer and editing tools, like Photoshop Elements, Lightroom's editing tools are "closer" to its organizing features. For example, even when you're scrolling through your photo library, you can make immediate exposure corrections without changing screens or switching modes. More importantly, the program emphasizes important photo editing tools that you need to improve your photos—not a hodgepodge of graphic design features you'll rarely use.
Don't underestimate the value of this; it means you'll start thinking about improving all your photos, and really capitalizing on the promise of digital photography. No more crooked landscapes, washed out images, or photos with the white balance askew.
2. All Edits Are Nondestructive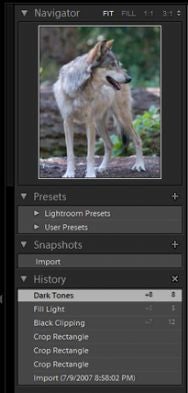 Here's another reason you'll want to make more changes to your photos: Everything you do is completely nondestructive. Whether you're cropping or brightening an image, or removing red eye, every edit can be undone, at any time. Come back to a photo a year later, and the complete, click-by-click history is still available on the left side of the screen.
The original, unretouched photo is always just one click of the Revert button away—and you can even selectively undo specific actions. Perhaps you even want to edit the same photo two very different ways, essentially making two different photos from the same initial shot. No problem. Make a "virtual copy" of your image and experiment to your heart's content.
3. Lets You Make Exposure Changes Easily
Lightroom 2's best new feature is the ability to "paint" corrections selectively in specific parts of the photo. Consider a photo in which the sky is overexposed but the foreground is dark and muddy, for instance. You can drag a "graduated filter" onto your image and underexpose the sky, while painting a mask over the parts of the foreground you want to brighten. Lightroom helps you by smartly tracking the edges in the image, so you can paint a selection on a flower without accidentally selecting any of the surrounding sky. Once your selection is complete, you can edit the exposure, brightness and contrast, saturation, sharpness, and even add a color tone.
The red sky in this image shows one of my selections, so I can ensure I've painted all the bits of sky that I want to include in my exposure adjustment. I've selected some of the mountains separately for a different exposure adjustment.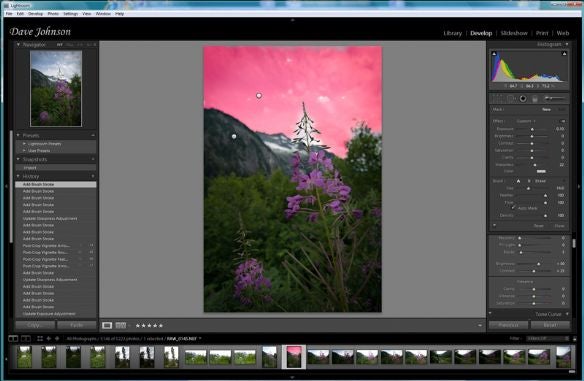 This Exposure Brush is so easy and powerful that it will completely change the way you think about photo editing. Indeed, this single Lightroom feature demonstrates how awkward and difficult photo editing has been in programs like Photoshop and Paint Shop Pro since the dawn of digital editing. The Exposure Brush works with JPEGs, but it performs best with your camera's RAW format, since RAW photos capture a lot more data to begin with, and thus can be pushed and pulled more effectively in Lightroom. Start using Lightroom, and you might decide to do all your photography in RAW.
4. Lightroom Is a Fully Integrated Organizer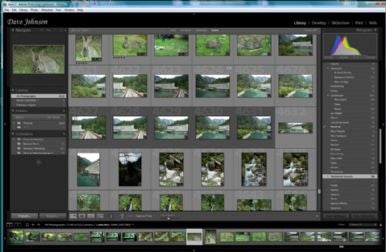 As much as I like simple photo organizers like Microsoft's Windows Live Photo Gallery, Lightroom's convenience is hard to ignore.
Consider a common problem I used to have: I'd take a series of photos intending to turn them into a panorama or a high dynamic range photo. I'd end up with a bunch of photos that all look more or less the same, and there was no easy way to associate them with the final panorama or HDR photo in my organizer. In Lightroom, not only can I tag the series with "Panorama Sources," but I can also group them into what Adobe calls a stack. (You'll find stacks in other Adobe programs as well, like Photoshop Elements.)
The middle row of photos in this view of my library shows a "stack" of photos that make up a panoramic series, followed by the panorama made from them. Notice that stacks are indicated by a dark frame around the images.
Now when I sort by photos by keyword and look at my panorama images, all the sources associated with a given panoramic photo are stacked conveniently together.
5. Extra Goodies Get the Creative Juices Flowing
There are some subtle but powerful features in Lightroom 2 that at first seem only occasionally useful, but upon closer inspection reveal themselves to be incredibly creative tools that can help you do stunning things with your photos.
Take Clarity, for example. Adobe calls the Clarity adjustment a "local contrast" tool, which enhances the midtones in your image. Increasing Clarity adds contrast to the midtones, but reducing Clarity—which at first sounds like a bad thing—can create some dreamy, Orton-like photos.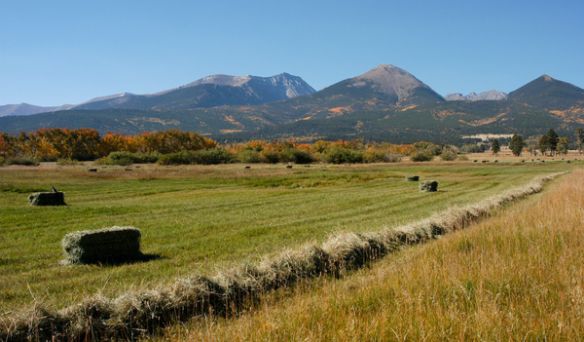 Compare, for example, the original photograph above to this one in which Clarity has been reduced by about 50 percent below.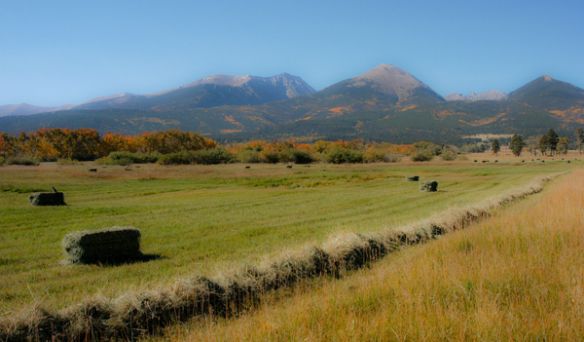 Have a digital photo question? Send me your comments, questions, and suggestions about the newsletter itself. And be sure to sign up to have PC World's Digital Focus Newsletter e-mailed to you each week.