The 2003 movie School of Rock starred Jack Black as an unlikely schoolteacher who teaches his class how to play rock and roll. Now Paramount Digital Entertainment has parlayed School of Rock into a new application for the iPhone and iPod touch you can purchase from the App Store for $6.99.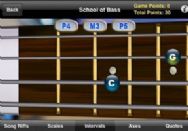 The application "takes a cue" from the movie by focusing on principles of music education, giving users an opportunity to play different musical instruments and learn different songs. You'll learn guitar, bass, piano and drums while learning how to play tracks from artists like Lynyrd Skynyrd, The Scorpions and Royal.
Different "channels" feature the School of Drums, School of Keys, School of Guitar and School of Bass. There are built-in challenges that encourage you to identify brand-name guitars and keyboards. Musical instruction teaches you melody, harmony, rhythm, tempo and beats, and once you're proficient, you can record your own jam session. Eventually, when you accumulate enough points, you can graduate from the School of Rock.