H2O Audio on Tuesday introduced the iDive 300, a new iPod case made for scuba divers. The iDive 300 costs $349.99.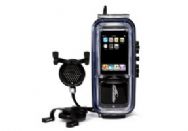 The iDive 300, as its name suggests, is waterproof to a submersed depth of 300 feet (90 meters). Made from polycarbonate, the iDive 300 supports most Apple iPods and features an integrated microprocessor that allows for push-button control of Click Wheel and touch screen iPods.
The iDive 300 sports its own built-in amplifier (powered by 3 AA batteries, included) and features over ear speakers that can be attached to your mask strap or tucked under a dive hood. A locking cam knob provides a secure seal, and a lanyard loop is included.