At a Glance
Expert's Rating
Pros
Thin, rounded design
Ecologically conscious
Retains FireWire port
Great new keyboard
Easier to service and upgrade
Gorgeous, bright, glossy screen
Large trackpad with numerous multi-touch gesture choices
Cons
Disappointing battery life compared to the last model
No choice of screen finishes
Trackpad button can be hard to press
Some multi-touch gestures more difficult to maneuver than others
Our Verdict
While it appears to be identical to its predecessor at first glance, this MacBook Pro has been remodeled both inside and out. It sports a new unibody architecture similar to the MacBook and MacBook Air enclosures. The matte screen option is gone, replaced by a glossy 15-inch screen. The latest MacBook Pro also employs Nvidia's Hybrid SLI technology, a pairing of two graphics chips-one integrated in the motherboard (GeForce 9400M) and the other discrete (GeForce 9600M GT). This model features a slightly faster processor–2.53GHz vs. 2.5GHz–than its predecessor at the same price.
At casual glance it appears nearly identical to its predecessor, but it's not. Inside and out, the new MacBook Pro 15-inch models—with speeds of 2.4GHz and 2.53GHz—have been remodeled, redesigned, and reengineered for a completely new laptop experience.
Solid (uni)body
While all the previous Macbook Pros felt rock solid, the new models seem even more so due to the brand new manufacturing process introduced with this generation of MacBooks ( ) and MacBook Pros. Instead of assembling the laptops piecemeal and expertly splicing the components together, the new models sport a unibody architecture that constructs the entire machine out of a single piece of recyclable aluminum. Such assembly, according to Apple, eliminates the need for fine-tuning parts and diminishes the possibility of construction failures. With the new MacBook Pro in hand, it feels almost like an extension of your arm. There's no clasp keeping the lid shut: simply grip the thumbscoop etched into the bottom of the case, and it opens right up. Even without a clasp, it feels secure when closed.
The unibody composition also makes these new laptops easier to service and fix, and great for do-it-yourself types who have, in the past, lamented how difficult it was to do things like swap out the hard drive or battery. The new MacBook Pro makes it very easy to access the battery and hard drive—move the lever on the bottom of the case, and you're in. Upgrading RAM requires the removal of eight screws; the previous MacBook Pro had only three screws.
All ports are grouped together on the left side of the case, including the MagSafe power port, Gigabit Ethernet, FireWire 800, two USB ports, audio in and out ports, and an ExpressCard/34 slot. The microphone is under the left speaker grille.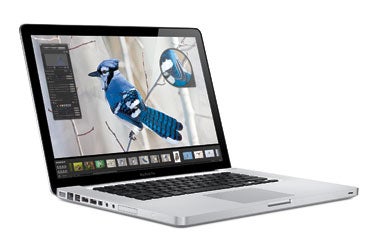 The 2.4GHz model comes with 3MB of shared L2 cache, 2GB of 1,066MHz DDR3 memory, and a 250GB SATA hard drive (5,400 rpm). The 2.53GHz model comes with 6MB of shared L2 cache, 4GB of memory, and a 320GB hard drive (5,400 rpm). Apple also offers a 7,200 rpm drive and solid-state drive (SSD) as built to order options. The new memory is the faster DDR3 variety—an upgrade over the DDR2 SDRAM that shipped in the previous models. Both have 1,066MHz frontside bus and built in AirPort Extreme Wi-Fi with 3-Mbps Bluetooth 2.1 + EDR.
A new port makes its appearance in this model: the Mini DisplayPort, which connects to Apple's new 24-inch LED Cinema Display ($899). You can connect other monitors to the new MacBook Pros, but you'll have to buy a $29 Mini DisplayPort to VGA or Mini DisplayPort to DVI adapter, or $99 for a Mini DisplayPort to Dual-Link DVI adapter. The right side of the machine has the slot-loading SuperDrive and a Kensington lock slot. And if you're using the lock, it automatically locks the access door underneath, thus protecting the hard drive and the battery. An elegant battery indicator on the side of the case glows green through eight tiny dots and when all is well and flashes five times when the battery needs replacement.
Side-by-side, the difference between the current and previous models is arresting. The new chassis is slightly larger than the previous model at 14.3 inches across (compared to the previous 14.1 inches), and a tad wider too, though it's also a shade thinner and more rounded at the edges to give it a more natural feel. It's also about one ounce heavier, but nothing you'd notice by simply lifting it.
Apple also quietly updated the 2.5GHz 17-inch MacBook Pro to include a 1,920 by 1,200-pixel screen (updated from the older 1,680 by 1,050 pixels), in either glossy or matte form. RAM has been increased from 2GB to 4GB, and hard drive size has increased from 250GB to 320GB. The standard drive is still 5,400 rpm, with (as before) the option of a 320GB 7,200 rpm drive. New to the 17-inch MacBook Pro, however, is an optional 128GB solid-state drive, as used in the updated MacBook Air (which ships in November). This review does not include the updated 17-inch MacBook Pro.
Glossy screens
Opening up the new MacBook Pros reveals a bright, glossy, 15.4-inch (viewable) widescreen LED-backlit monitor that's pure joy to behold. The 1,440-by-900-pixel screen is no longer encased in a metal bezel, but rather seems to float on its own, ringed by a deep black frame. It's all glass. There's only the thinnest hint of a bezel if you view it at a particular angle. These displays are just beautiful, and a lot more attractive than previous 'Books. They are also ecologically friendly, being both mercury and arsenic free.
There's no longer a choice of screen finishes, unfortunately, and many will grumble about the glossy screen. Personally, the more I look at glossy screens (especially on laptops where they don't remind me of a huge negative mirror) the more appealing they become. Not only is the graphical contrast visually striking, but these new screens show grayscale gradations that are virtually undetectable on matte screens. They also have a 3-D quality that makes everything on-screen burst with energy and vivid color. But some people will not like that, and it may cause eyestrain for others. I do wish a matte screen were offered as an option.
Dual graphics chips
It's the brand new graphics chips that make the difference in how the laptop handles high-intensity graphical applications such as 3-D, video, professional imaging and design applications, and games. The new MacBook Pros employ Nvidia's Hybrid SLI technology, a pairing of two graphics chips–one integrated in the motherboard (GeForce 9400M) and the other discrete (GeForce 9600M GT). The 9400M has 16 parallel processor cores and is capable of 54 Gigaflops, while the latter has 32 parallel processor cores and is capable of 120 Gigaflops. As for video memory, the 9400M uses 256MB of main memory. The 9600MGT has dedicated video memory; the 2.4GHz MacBook Pro gets 256MB of DDR3 SDRAM, and the 2.53GHz model has 512MB of DDR3 SDRAM.
You can switch off between these two chips to get either better video performance or longer battery life. While you have to log out and then log back in to switch graphics chips—and some people might complain that you can't simply switch on the fly—it seems like something you'd decide beforehand depending on how you're planning to use your 'Book. For people who use their MacBook Pro in a home or office setup, plugged in and attached to large monitor and separate keyboard, the higher performance graphics mode makes sense because they're not concerned with battery life. However, when traveling, say, on the plane working or watching a movie, then switching to the integrated graphics chip will conserve battery life. For gaming or other graphics intensive operations, the Higher Performance mode would be the way to go, regardless. You can change your settings via the Energy Saver preference (whose icon has changed from a standard light bulb to a cute energy-saver style compact florescent).
Hands down
While we noted with excitement that the last batch of pro 'Books supported the new MacBook Air-style hand gestures, these new models support even more gestures on bigger trackpads. The new Multi-Touch trackpad looks huge, measuring about 4.13 inches horizontally and 3 inches vertically as opposed to 3.94 horizontally and 2.81 vertically (with .88 of an inch taken up by the clickable button) on the older model. It's silky smooth glass and has no separate button because the entire pad is a button. According to Apple, the new trackpad has 39 percent more tracking area than the previous one.
You can use one finger to click, drag, drag lock, and right-click (called secondary click). You can use two fingers to scroll, rotate, pinch open and close, and zoom your screen, as well as secondary tap. A three-finger swipe will navigate you through a photo album, for example, and pulling four fingers up and down will activate the Exposé functions; four fingers swiped to the right or left gives you the Application Switcher. You can tap to click, double tap to choose and move a window, and to lock it in place again, and choose the right bottom or left bottom corner of the trackpad to designate a right-click function.
As someone who's used the Mac's trackpad buttons for years, I found this new design hard to get used to. The new unified trackpad/button may cause you to fundamentally change the way you use your Mac laptops. Because the button is so large (and to my hands, harder to click with my thumb as many people are used to doing), some will wind up using hand gestures almost all the time. Instead of leaning on the pad/button every time you want to click, just use the single tap or double tap with your forefinger to expedite most commands. This works out to be much easier on the hands over time and a much quieter way of computing as well. All that button pushing—gone.
Within the System Preferences, there's now a new Trackpad preference pane that gives you video-enhanced information and demonstrations on how to use the new hand gestures.
Front panel
The laptop's front panel has undergone a significant redesign. The power button at the upper right hand side of the case is small, and blends in to the panel. The speaker mesh on both sides of the keyboard is likewise very delicate. And there's a tiny iSight camera embedded in the lid, so small it blends into the monitor's black border so that you can barely see it.
Within a small depressed well sits the Chicklet-style keyboard. The keys are black and scissor style, similar to the keyboards on previous generation black MacBooks, yet there's nothing compressed about them. These are generous flat-topped keys with just enough key travel to not be hard on the hands, and which register a solid press without being mushy. While in somewhat the same style of the desktop aluminum keyboards, I find this one more comfortable to use than the aluminum keyboard. And there's an ambient light sensor that lights up the underside of the keys if you're working in a low light environment.
Performance
The MacBook Pro 2.53GHz turned in the fastest numbers of any standard Mac laptop in every test category. Our benchmark tests were run with the high-performance setting (the GeForce 9600M GT graphics chip). In our Speedmark test, the 2.53GHz topped its 2.4GHz sibling by 7.5 percent and the previous 2.4GHz MacBook Pro by 15 percent. It bested its slower sibling by 16 percent in our suite of Photoshop tests. It was nearly twice as fast in its Photoshop operations as the previous generation's 2.4GHz model.
The new entry level 2.4GHz MacBook Pro scored 8 percent faster in Speedmark than the older 2.4GHz model, and 12 percent faster at Photoshop. We also compared the new models to an older 2GHz MacBook Pro (February 2006). When that older model was set against the new low-end MacBook, we noted a 48 percent improvement in Speedmark scores, a 32 percent improvement in Photoshop. Quake frame rates were almost two-and-a-half times faster in the new entry-level system (more gaming benchmarks are available for your perusal).
But part of good performance is also energy efficiency. The backlit display saves energy. For the first time, MacBook Pros are Energy Star compliant, and ship with less packaging, while at the same time most components are recyclable. Apple reports it has removed polyvinyl chloride (PVC) and brominated flame retardants from enclosures, circuit boards, and connectors.
MacBook Pro benchmarks
| | Speedmark 5 | Adobe Photoshop CS3 | Cinema 4D XL 10.5 | Compressor | iMovie HD | iTunes 7.6 | Quake | Finder | Finder |
| --- | --- | --- | --- | --- | --- | --- | --- | --- | --- |
| | OVERALL SCORE | SUITE | RENDER | MPEG ENCODE | AGED EFFECT | MP3 ENCODE | FRAME RATE | ZIP ARCHIVE | UNZIP ARCHIVE |
| 15-inch MacBook Pro Core 2 Duo/2.53GHz (4GB RAM, unibody) | 231 | 0:56 | 0:53 | 1:41 | 0:44 | 1:00 | 65.7 | 4:37 | 1:15 |
| 15-inch MacBook Pro Core 2 Duo/2.4GHz (Unibody) | 215 | 1:07 | 0:54 | 1:53 | 0:49 | 1:04 | 59.2 | 5:05 | 1:18 |
| 15-inch MacBook Pro Core 2 Duo/2.4GHz (February 2008) | 200 | 1:16 | 0:56 | 2:09 | 0:49 | 1:02 | 62.3 | 4:59 | 1:49 |
| MacBook Core 2 Duo/2.4GHz (Unibody) | 212 | 1:05 | 0:54 | 1:52 | 0:49 | 1:03 | 39.4 | 4:59 | 1:32 |
| 15-inch MacBook Pro Core Duo/2GHz | 145 | 1:39 | 1:13 | 3:23 | 1:07 | 1:39 | 24.2 | 6:14 | 2:26 |
| PowerBook G4/1.67GHz | 91 | 3:02 | 3:57 | 7:47 | 1:59 | 2:26 | 19.9 | 7:14 | 2:21 |
| | >Better | | | | | | >Better | | |
Best results in bold. Reference systems in italics.
Battery life
Macworld employs a different methodology in testing the batteries of the new MacBook Pros than Apple does, so it's no surprise that our results differ from Apple's battery life estimates. Because of the dual graphics chips, we tested the battery using each one separately. Our standard tests involve watching a DVD movie clip ripped to the laptop hard drive and looped until the battery is drained in a situation where it would be impossible to recharge the battery.
The results with movie watching on the 2.53GHz MacBook Pro was about 2 hours, 12 minutes, while the results were roughly the same—2 hours, 18 minutes—on the 2.4GHz model. If you want to conserve battery life, as Apple thinks you might, you can use the GeForce 9400M to watch your movie. Our results indicate that you'll get an extra 17 minutes of cinematic enjoyment using the less powerful chip on the high end MacBook Pro as opposed to an extra 13 minutes watching on the low end model. As noted in our battery benchmark story, the results between the MacBook Pro's 9400M battery life and that of the MacBook models is similar.
How does that stack up to the previous MacBook Pro? Not favorably. The same test on the 2.4GHz model (with an Nvidia 8600 GT graphics chip) was 2 hours, 49 minutes. The older MacBook Pro yielded an extra 18 minutes of battery life as compared with its direct clock speed counterpart.
Macworld's buying advice
If you're thinking about buying a new pro-level laptop, the new MacBook Pros 2.4 and 2.53GHz present more challenges and ambiguities than in the past. The MacBook Pro's new design and its features definitely come out on the plus side of the ledger, with some outstanding aesthetic and engineering improvements to recommend it—not the least of which is its significant attention to environmental issues—at exactly the same price as the previous 2.4GHz and 2.5GHz models. However the mandatory glossy screen may be a deal killer for some people. While I personally find the new screen very engaging and I was not especially bothered by its reflective quality as I enjoyed the 3-D optics and its feeling of space and depth. It's too bad that Apple has not offered a matte display as an option in consideration of the many visual professionals (the MacBook Pro's target users, after all), for which a glossy screen is not considered optimal. The all-in-one trackpad is another question: it takes some getting used to, though it will likely grow on you. The battery life was more disturbing because despite the energy saving integrated graphics option, battery life diminished to a significant degree compared with the previous model.
[Jackie Dove is Macworld's senior reviews editor.]