DDH Software on Tuesday announced the release of HanDBase for the iPhone, a version of its mobile database software designed for Apple's iPhone and iPod touch. It costs $9.99.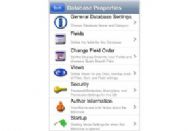 HanDBase is a relational database manager. It's a standalone product; it doesn't require a desktop component to operate (although DDH does offer HanDBase for Windows and Mac separately). You can use HanDBase for personal information tracking, like shopping lists or DVD collections, passwords and more; or you can use it for business, as part of an inventory system, for surveys, directories, customer relationship management and more.
HanDBase includes database templates to speed up the creation of databases on your iPhone. It supports 19 different field types, and handles sorting, filtering and customized views. You can encrypt fields, connect to the desktop application through a Web browser and load and save databases, and import and export content using the HanDBase Gallery, which features more than 20,000 databases.