Adobe Bridge is an organizational and image-browsing powerhouse that's been shipping with Photoshop since the inception of the creative suite. However, in previous versions it was sometimes painfully slow and the workspace wasn't friendly as it could have been. That's all changed in Photoshop CS4 ( )—Bridge got a makeover, a speed boost, and a new Review Mode that'll make photographers squeal with joy.
Interface lift
When you launch Bridge a friendly, light- gray window containing a slew of resizable and movable panels greets you. Using the familiar Folders panel, you can navigate through your hard drive and view files as scalable thumbnails. To see larger previews, click an image and it'll appear in the Preview panel (or just press your keyboard's spacebar for a full-screen preview). At the top of the window lie several new navigational aids including Forward and Back arrow buttons that let you move through recently viewed folders, a "Go to parent or Favorites" menu (it looks like a down arrow) that lets you move up a folder in your directory or access folders you've added as Favorites, and the "Go to recent file" menu lets you see all the files and folders you've recently viewed. One of the most useful additions is the Path Bar, which serves as a clickable trail of breadcrumbs that keeps you spatially oriented within your file system (if you don't see it, choose Window: Path Bar).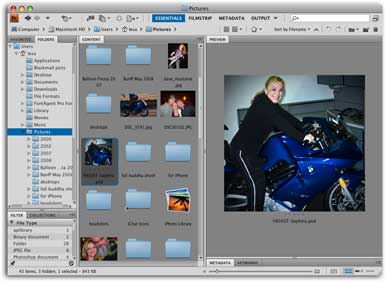 Also new is a search bar complete with Spotlight integration. If you don't know where a file lives, type its name (or the first few letters) into the search field and press Return, and Bridge will instantly launch a search party throughout your hard drive. Workspaces also receive top billing in the new Bridge window, making them a lot easier to find. They're not new—they were previously stuffed at the bottom right of the window with a cryptic 1, 2, 3 label. If the pre-configured workspaces don't float your boat, you can always make your own. Importing photos
Using Bridge to import your photos (done seamlessly via a separate app called Adobe Photo Downloader) can be a huge timesaver as you can make it do all kinds of housekeeping chores for you. For example, you can set it up to automatically rename your photos, add keywords, a description, and copyright info to each and every one. It can perform a backup as part of the import process and burn a DVD for off-site storage. This valuable function of Bridge has been carried over from the previous version.
Review Mode
After importing your images, the new Review Mode lets you see them in a giant, floating carousel. It's a quick and easy way to view your images full-screen, mark rejections, and apply a handy star-rating system. To use Review Mode, select a folder or multiple images, click the Refine icon at the top of the Bridge window and choose Review Mode (or press Command+B). By using the left and right arrow keys, you can sift through your images very quickly. To exit Review Mode, click the X at the bottom right corner or press Escape.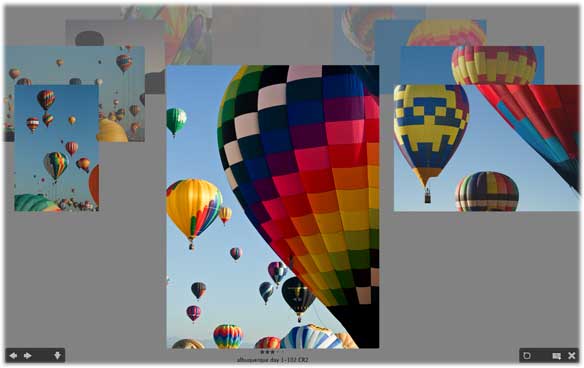 Sorting and filtering
Bridge gives you a lot of flexibility when it comes to viewing your image collection. For example, you can use the Sort menu at the top of the window to arrange your images by name, date modified, size, and so on.
The Filter panel, on the other hand, lets you weed out images by displaying those that match a certain criteria, like star-rating, rejections, and so on. If you didn't rate your images when you imported them using Review Mode, you might want to take the time to do it now. That way you can quickly view your Crème de la Crop images on the fly when the opportunity arises. If you're shooting for HDR (High Dynamic Range) or for panoramas (and you're running Photoshop CS4 Extended), you've got a couple of new automation tools to speed your workflow. You can make Bridge collect your panorama or HDR images for you (by looking at their metadata) by choosing Stacks: Auto-Stack Panorama/HDR. Next, you can send them off to Photoshop to create, save, and show you a preview of the finished panorama or HDR file by choosing Tools: Process Collections. If you want to open several images in a multi-layered document, you can choose Bridge: Tools: Load Files. However, in testing, this feature worked less well with HDR sets than with panoramas, and we've noted that Bridge tries to process HDR sets as panos. Moreover, in testing we find that small quantities of photos work better than large quantities.
Among other improvements are a new Collections pane, which, expanding on the existing collections feature, gives you the ability to group your images into virtual albums. You can build Collections manually or have Bridge do it for you by selecting certain criteria like star-rating, name, keywords, and so on. These Smart Collections will grow over time as new photos with matching criteria are added to the collection automatically. They take Bridge beyond being a mere browser, by giving it some powerful library functionality.
Hotline to Camera Raw
One of the many benefits of organizing and browsing images in Bridge is its integration with the Camera Raw plug-in. There are a half-dozen ways to open your images in Camera Raw from within Bridge with the simplest being to just double-click the file, or Control-click it and choose Open in Camera Raw.
If you've got several images that could use the same edits, you can copy the settings from one and apply them to others right in Bridge. All you have to do is Control-click the image in the Content panel and choose Develop Settings:Copy Settings from the resulting shortcut menu. Select the images you want to apply the settings to, Control-click them, and choose Develop Settings:Paste Settings. Now that's working smarter instead of harder. This feature, too, has been retained from previous versions.
Adobe Output Module
Bridge can also create an instant slideshow of your work, and generate PDFs or a Web gallery. The new Adobe Output Module handles the latter two options through an interface almost identical to the Print and Web modules in Adobe Lightroom. It's extremely intuitive; just select the images you want to export and click the Output workspace button at the top of the Bridge window. In the Output panel, you'll see a Template pop-up with paltry few presets (though they're fairly customizable) and you have to click the Output Preview tab to see a preview. The galactic bummer is that you can't save any of the options you've painstakingly entered—though it does remember the last settings you used.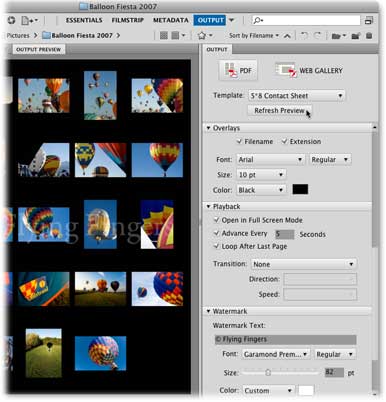 Final word
With the workspace overhaul and speed increase, Bridge is a real joy to use. The ability to quickly zip through the images on your hard drive is very satisfying, especially for those who have a lot of imagery in their lives. The new Output module is handy for exporting PDFs and Web galleries, but the inability to save your settings as a preset is bone-jarring. After all, the module feels air-lifted right out of Adobe Lightroom where the ability to save presets does exist. For those mourning the loss of Contact Sheets and Picture Packages over in Photoshop CS4, a little customization in the Output module would have been placating. Though if the public outcry is fierce enough, perhaps we'll see significant improvements in this module in future versions.
[Lesa Snider King, founder of GraphicReporter.com, is the chief evangelist of iStockphoto.com, author of Photoshop CS4: The Missing Manual (Pogue Press/O'Reilly), From Photo to Graphic Art (KelbyTraining.com), Graphic Secrets for Business Professionals (Lynda.com), and co-host of YourMacLifeShow.com.]