Apple on Tuesday reported a $1.14 billion profit for its fiscal fourth quarter, as the company enjoyed record quarterly sales for both Macs and iPhones. And the company outlined its strategy for weathering the tough conditions roiling the global economy.
Apple's profit increased 26 percent from its year-ago quarterly profit of $904 million. Strong shipments of Macs, iPods and iPhones led the company to $7.9 billion in revenue for the quarter—a 27 percent jump from last year's quarterly sales mark.
Apple reported earnings per share of $1.26 for the quarter, topping analysts' estimates of $1.11 per share and its own forecast of $1 per share.
However, Apple painted a much more challenging picture for the first quarter of its 2009 fiscal year. For that quarter, which ends December 31, Apple said it expects revenue of between $9 and $10 billion and earnings ranging from $1.06 to $1.35 a share—a forecast chief financial officer Peter Oppenheimer characterized as "prudent." Analysts had expected $10.57 billion in revenue and earnings of $1.65 per share for the upcoming quarter.
"We think we're doing the right things, and we think we know what the results may be, but there's a lot of prudence built in," CEO Steve Jobs said during Apple's quarterly conference call with financial analysts. "We're not economists and we read the same newspapers you do."
Hitting the iPhone target
Still, Apple can take cheer in the performance of its iPhone, boosted by the July debut of the iPhone 3G. Apple sold 6.8 million iPhones during the quarter—a figure topped the 6.1 million total sales of original iPhone, according to Oppenheimer. Apple's sold more iPhones during the just-completed quarter than in all quarters combined.
Oppenheimer also said the company had met its goal of selling more than 10 million iPhones during calendar year 2008. (By the end of September, Apple had sold 9.3 million iPhones. Presumably Oppenheimer was suggesting that in the intervening 21 days Apple has sold more than 700,000 additional iPhones, putting the company over the top.)
In another sign of strong iPhone sales, Apple said that it sold more phones in the quarter than Blackberry-maker Research In Motion (RIM).
"Apple beat RIM," Jobs announced during the conference call. "In our most recent quarter, RIM sold 6.1 million Blackberry devices, compared to our 6.9 iPhones," Jobs said. "Apple outsold RIM last quarter, and this is a milestone for us. RIM is a good company that makes good products, and so it is surprising that we could outsell them in any quarter after only 15 months in the market."
Jobs said that when measured by revenues, at $4.6 billion in phone revenue Apple "has become the world's third-largest mobile phone supplier," after Nokia ($12.7 billion) and Samsung ($5.9 billion), and ahead of Sony Ericcson ($4.2 billion), LG ($3.4 billion), Motorola ($3.2 billion), and RIM ($2.1 billion). "Pretty amazing," Jobs said. "Not bad for being in the market only 15 months."
Jobs also noted that Apple expects the 200 millionth iPhone application to be downloaded from its App Store some time on Wednesday, reaching that milestone in a little more than 100 days since the App Store came online. "We've never seen anything like this in our careers," he told analysts.
Apple also told analysts it would include non-GAAP (generally accepted accounting principles) results in its earnings announcements. The company made the move because the iPhone has grown to be a significant part of its business—39 percent of the company's total business, according to Jobs. Under GAAP, Apple accounts for its iPhone and Apple TV revenue on a subscription basis, spreading out that revenue over a two-year period.
Under its non-GAAP results, Apple's fourth-quarter revenue hit $11.68 billion, 48 percent more than the $7.9 billion it reported. Adjusted net income for the quarter was $2.44 billion.
"So we have an adjusted net income that's more than double our reported income. If this isn't stunning, I don't know what is," Jobs said. "And it's all due to the incredible success of the iPhone 3G."
Another Mac mark
Apple shipped 2.6 million Macs for the quarter, a 21 percent unit growth and 17 percent revenue growth over the year-ago quarter, and a 5 percent growth in units over the third quarter. Those 2.6 million units represent the most Macs Apple has sold in a quarter—the fifth time Apple has shattered that record in the last six quarters.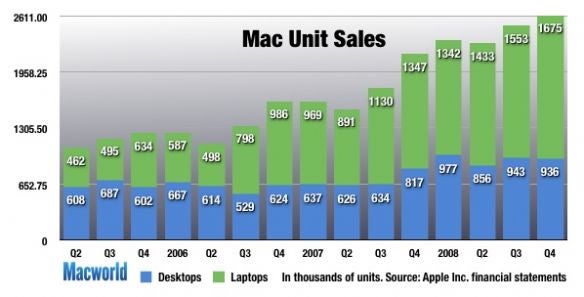 Apple reached that record even as customers were putting off purchases in anticipation of a new product release, according to Oppenheimer. ( Apple updated its laptop line a week ago.) Mac sales were also affected by cutbacks in education budgets, according to Apple.
Apple also set a record for iPod sales outside of the always lucrative holiday quarter. The company sold more than 11 million iPods, an 8 percent jump in unit growth with a 3 percent rise in revenue over the year-ago quarter. Sales were essentially flat from third-quarter iPod sales.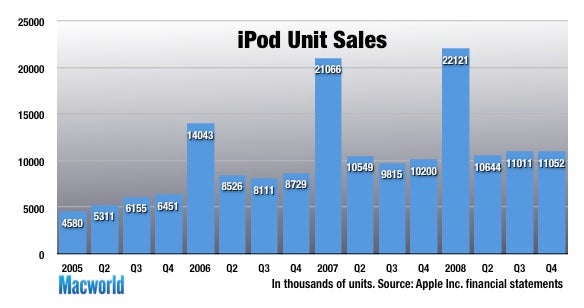 International sales accounted for 41 percent of the quarter's revenue, according to Apple.
The company met its goal of opening 242 retail stores by the end of its fiscal year; Apple ended the quarter with 247 Apple Stores. Average revenue at the stores was $7.6 million with the retail outlets averaging weekly 14,500 visitors per store.
The road ahead
Apple's fourth-quarter numbers came out as the economy continues to stumble, providing a challenging atmosphere for a company that specializes in consumer goods such as computers, phones, and music players. That may have accounted for the presence of Jobs on the conference call; Apple's CEO typically leaves such duties to Oppenheimer and chief operating officer Tim Cook.
"Some remarkable things are happening at Apple, but everything is now set against the backdrop against this economic slowdown," Jobs said.
To that end, the Apple CEO expressed confidence in his company's ability to weather a brutal economy. Jobs noted that Apple's customers are extremely loyally, opting to delay purchases rather than go with a different, less expensive brand. The company also enjoys the opportunity to significantly increase market share in both the computing and phone markets with only modest gains in customers. Jobs also praised Apple's current product line and its employees and cited the large amount of cash Apple has available.
"We don't yet know how this economic downturn will affect Apple," said Jobs. "But we're armed with the strongest product line in our history, the most talented employees and the best customers in our industry. And $25 billion of cash safely in the bank with zero debt."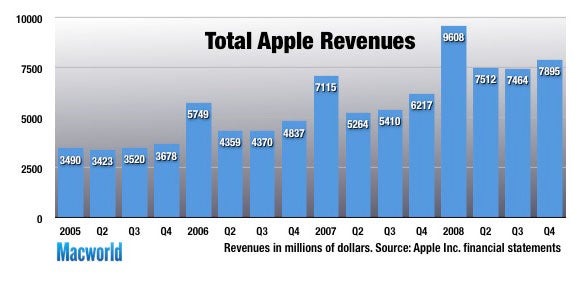 Apple stock closed down $6.95 or 7.06 percent at $91.49. However, the stock has rebounded in after hours trading to $93.32, up $1.83 or 2 percent.
Update: Added more information on sales and financial numbers. 2:08 pm PT; added more through 3:00 p.m. PT Updated at 3:52 p.m. PT to include more details on Apple's quarterly performance. Updated at 4:12 p.m. PT to include information on Apple's non-GAAP results.
Jason Snell and Philip Michaels of Macworld.com contributed to this report.