At a Glance
Expert's Rating
Pros
True Mac power button
Inexpensive
Thin
Laptop-style keys with decent key feel
Cons
Odd forward-slash key placement
No volume or eject keys
No USB ports
Too-bright power light
Our Verdict
Sometimes just the basics will do, and for those in the market for an inexpensive replacement keyboard, the not-so-basically named KR-6170M i-mini X-Slim gives you a spartan but reliable option—as well as a few non-standard key locations—at a low price.
It's a keyboard
Unlike the other keyboards we've tested recently, the KR-6170M i-mini X-Slim—let's just call it the X-Slim—doesn't give you a stylish metal design, lots of special buttons, wireless connectivity, or some other feature designed to set it apart from the crowd. On the contrary, it's just your basic, inexpensive computer keyboard, albeit one specifically made for the Mac. Which, come to think of it, does make it unique; most inexpensive keyboards are made for Windows.
At 18.1 inches wide, 6.2 inches deep, and 0.8 inches thick, the X-Slim is a fairly standard-size keyboard, although one that's relatively thin thanks to the use of laptop-style keys (more on that below). The keyboard is available in glossy white or black plastic with matching matte-plastic keys; both models have chrome-colored plastic trim around the outer edges. (The black model has a slightly-different model number, KR-6170M-BK.) The laptop's low profile offers ergonomic benefits, as it doesn't require your wrists to bend upward, although two flip-out risers let you raise the back of the keyboard an additional half-inch if desired.
The X-Slim connects to your Mac via a standard USB cable; however, the keyboard doesn't provide any USB ports, so you'll need to connect your mouse or other input devices directly to your computer (or at least to a USB hub). White LED indicators for power, caps lock, and num lock are located above the numeric keypad; only the first two work with the Mac. I found these lights to be very bright, especially when using the keyboard at night or in a dimly-lit room; some may find them too distracting, especially considering that the power light is on whenever keyboard is connected to an active USB port.
Simple but sufficient
Like a number of recent desktop keyboards, including Moshi's Celesta, the X-Slim uses laptop-style scissor-switch keys, rather than the dome-style key switches traditionally found in desktop keyboards. These keys contribute to the X-Slim's, well, slimness, but scissor keys also tend to require less force and less travel—the distance you have to press a key for it to register—than dome keys, which helps reduce fatique. That said, apart from the space bar, the X-Slim's keys offer a bit more resistance than the best of this type. (And, in fact, the difference in resistance between the space bar and the rest of the keys was noticeable enough when typing that I found it distracting.) Still, the X-Slim's keys felt good for an inexpensive keyboard, with clear tactile feedback and a slightly-textured key surface that, while likely to build up dirt over time, helps keep your fingertips on the keys.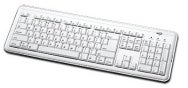 The X-Slim provides the usual array of computer-keyboard keys: the main QWERTY section, a numeric keypad, an "inverted-T" set of directional-arrow keys, and the help/forward-delete/home/end/page up/page down group. It also provides 15 function keys (F-keys, F-1 through F-15), rather than the Mac-standard 12. Unfortunately, out of the extra three F-keys, only F13 can be assigned a function (for example, for Expose or Dashboard, or using a third-party macro utility); as with several cross-platform keyboards I've tested, F14 and F15 actually act as brightness down and up keys when the keyboard is connected to a Mac laptop or a Mac with a Cinema Display (otherwise these keys are non-functional).
Unlike most budget keyboards, the X-Slim provides a true Mac power button and true Mac modifier keys: option and command. (It's nice to be on the "preferred" side of the budget-keyboard platform divide once in a while.) On the other hand, the X-Slim has no volume, mute, or eject keys—although Mac OS X lets you hold down F12 on any keyboard to eject the optical drive.
In terms of layout, the X-Slim puts most keys where they should be. It even gets the function keys right, placing them in four-key groups separated from the top (number) row— Apple's own keyboards get this wrong. On the other hand, a huge Return key, twice as tall as normal, bumps the backslash key from its standard location down to a spot between the space bar and the right-hand command key. This, in turn, moves the right-hand command key to where the option key should be; the result is that using either modifier key is a challenge for touch typists. Similarly, the layout of the numeric keypad's operand buttons (plus, minus, multiply, and divide) is somewhat irregular.
Macworld's buying advice
i-Rocks' KR-6170M i-mini X-Slim keyboard is an excellent value and offers surprisingly good typing feel for such an inexpensive keyboard. It's also a true Mac keyboard, which is even more impressive given its low price. But beyond that, you do get what you pay for: the X-Slim offers none of the special features and extra keys common on aftermarket keyboard these days, and there are some key-layout oddities that may frustrate touch typists.
Updated 10/24/2008 2:45pm: Corrected error in naming the backslash key.