Nvidia this week introduced a desktop variation of the same motherboard design that debuted as part of Apple's new MacBook and MacBook Pro last week. Introduced Monday, the new GeForce 9-Series motherboards are coming from leading PC manufacturers this month.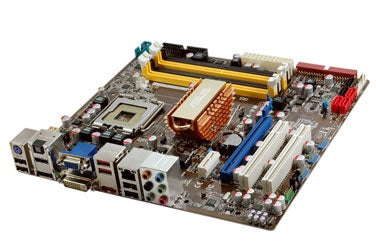 Apple's newest MacBook and MacBook Pro systems both share a motherboard design that features a motherboard-based graphics processing unit, or, in Nvidia's parlance, an mGPU. This enables the machines to work faster than previous MacBook systems could while still conserving energy, without having excessively slow integrated graphics—an Achilles' heel for previous MacBook designs, in particular. The MacBook Pro also adds a discrete Nvidia graphics processor that users can turn on and off using Energy Saver controls if they prefer to have faster graphics.
More on how Apple's latest laptops handle gaming
The GeForce 9-Series motherboards share the same core architectural components—a motherboard-based graphics processor that enables compact PCs to work faster with complex graphics, high-definition video and other computationally intensive tasks. Features include 16-core graphics processing, PureVideo HD technology (which offloads all video processing from the CPU to the GPU instead), and support for LPCM 7.1 audio, dual-link DVI and HDMI.
The reference board design also supports Nvidia Hybrid Scalable Link Interface (SLI) technology, which enables more than one Nvidia- based graphics card to work simultaneously with another. Nvidia says this can boost graphics performance up to 70 percent above the motherboard GPU.
What's more, Nvidia says, the motherboard is being offered in a "much smaller footprint than competing chipsets makes it ideal for small form factor and ultra-slim media center PCs."
Companies Nvidia has announced that are manufacturing the motherboard include ASUS and Foxconn, two frequent manufacturing partners of Apple's.
These last two items may provide some clues to the future of the long lamented Mac mini, which, according to one report, may be on its way out—at least in its current form.
Last updated in 2007, the Mac mini is the sole remaining product in Apple's computer line that still has a motherboard which uses slower Intel integrated graphics. It also sports a much slower motherboard design and doesn't have 802.11n draft spec-based wireless networking, unlike the rest of Apple's Mac line.
The mini was introduced in January 2005, before Apple migrated its Mac product line to the Intel microprocessor. It has been slowly updated several times since then so it's arguably due for a refresh. With the Mac mini sharing a lineage with Apple's consumer laptop line, it's conceivable that Nvidia's GeForce 9 motherboard could be used in the mini—or something like it—sometime soon.