Other World Computing (OWC) on Wednesday introduced its Mercury Pro Blu-ray "Quad Interface" external drives. They're priced starting at $499.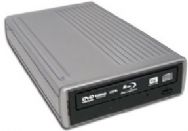 The new drives feature 4X Blu-ray disc write speed and a data transfer rate of up to 150 megabytes per second. They're compatible with both Windows and Macintosh systems. The quad-interface drives feature FireWire 800, FireWire 400, USB 2.0 and external Serial ATA (eSATA) ports.
The new drives work with 50GB Blu-ray discs, and also support HD-DVD, DVD-RAM, various DVD formats and CD-R/W. They read and write "virtually all optical media," according to OWC, all with write performance up to twice as fast as previous-generation Blu-ray drives.
The $499.99 package nets you the OWC Mercury Pro SW-5583 model, connection cables and two 25GB BD-R discs. For $579.99, the SW-5583T model adds Roxio Toast 9 Titanium for Mac OS X.
The drives are supported by iDVD, iTunes, Apple Finder disc burning and Roxio Toast 9 Titanium.
Although the drives can be used to burn videos and data, please note that at this point. Blu-ray Disc movie playback is not supported by the operating system.