Virtual Programming, best known for their Mac games such as the recently-released FlatOut 2, has released Brain Jogging, their first game for the iPhone. Brain Jogging costs $4.99 and is available for download from the App Store.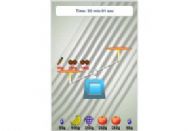 Brain Jogging is a brain gym-style game for the iPhone and iPod touch. You use it to sharpen your mental effectiveness with different tasks. You can check your mental arithmetic, play a memory game or play a geometry game.
Brain Jogging lets you repeat training classes as often as you'd like. The game features both challenge and training modes, and incorporates three difficulty levels. It also evaluates your performance of every game you've played.
Brain Jogging requires an iPhone or iPod touch with iPhone 2.0 software or later.