No matter how extensive your Contacts entries are—no matter how dutifully you sync up names, phone numbers, and other contact info on your iPhone—there's always that one person you need to reach right now who's MIA from your mobile address book. How to get out of this sticky situation? You can dial 411, of course, and rack up the accompanying charges for calling information. But Caffeinated Cocoa thinks it has a better solution: use the developer's free People application to look up phone numbers via an online white pages service. And more often than not, the app delivers.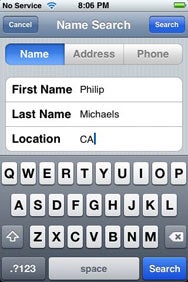 Using data from WhitePages.com and GeoNames.org, People lets you search by name, address, or phone number. Type in a name and a location (or an address or phone number if you're searching by those options), tap search, and People produces a page of results. Hopefully, that missing contact is somewhere on that list.
If it sounds simple, it is, but that's not the full extent of People's powers. The app links up with several built-in features on the iPhone, enabling you to get more out of those newly located contacts. Tap the phone number of the found contact, and the iPhone will dial that number for you. Tap the address, and the Map feature will launch, planting a pin at the appropriate locale on the map. The Create New Contact and Add to Existing Contact buttons at the bottom of the screen import your search results into the iPhone's Contacts app. The newly created contact will include the WhitePages.com URL in the More Info field, but that's easy enough to delete. (Note that tapping the phone number won't initiate a phone call on the iPod touch for obvious reasons; otherwise, all the features I've just described work on the touch.)
People has a few interface quirks, some of which I found to be more problematic than others. Most significantly, there's no Clear Fields feature on the search page—if you're searching for multiple contacts or tweaking search fields, you have to use the Backspace button to delete names, cities, and states. Speaking of states, if you search by just a state name in the location field, you'll need to use the postal abbreviation. Type out the full state name—"California," say—and People will conclude that you're looking up a city named that, be it California, Pa., California, Md., or California, Ky. The application also uses the iPhone's auto-correct features, which can be annoying when you're typing out proper names and you inadvertently select the auto-corrected suggestion. No, People, I actually wanted to search for people named "Ko," not "OK," and "Ralls," not "Falls."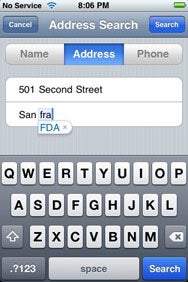 Search results are limited to 20 names per screen—which can be a problem if you're looking for a common name or haven't refined your search terms. The app provides a link to WhitePages.com, but once you jump to the iPhone's built-in Safari browser, WhitePages.com starts at the top of your search results list. And the Web site limits results to 10 names per page, so you're in for a lot of scrolling and tapping. My advice: Make sure your searches in People are as specific as possible.
But not too specific—for example, I ran a search on an associate of mine whose phone number I couldn't remember but who lives in Rialto, Calif. A search on People turned up no results. However, when I broadened my search to all of California, I found the phone number I was looking for, only it was linked to an address in nearby Fontana, Calif., where my associate does not and has not ever lived.
And that brings up a fundamental limitation of People—it's only as good as the data WhitePages.com and GeoNames.org supply. And that data isn't always up to snuff. In that California-wide search for associate's phone number, People also dug up to other phone numbers—one at a business where my friend hasn't worked in four years and another at a job he hasn't held in nearly a decade. This inconsistent data is hardly the fault of People's developers, but it nevertheless limits the usefulness of the application somewhat.
People has a couple other features worth noting. A Nearby button on the bottom of the screen uses the iPhone's location feature to find names, addresses and phone numbers of folks in your immediate vicinity. This could come in handy, I suppose, if you're heading to someone's house and forgotten where exactly they live just as you arrive in the neighborhood, or if you need to get in touch with one of your neighbors but can't quite remember the phone number. Still, I found the feature a bit limited in practice. For example, I live at the intersection of two busy streets—well, as busy streets can be in the suburbs—but People's Nearby tool only listed names and addresses on the street that runs east-to-west and not on the one running north-to-south.
A Recents button collects your 15 most recent searches, which can save you some time re-entering the same search data over and over again. (Although if you keep searching for the same name, why not just tap the Add to Contacts button?) A Clear button lets you clear out all your recent searches. It would be better, though, if People allowed you to selectively remove the fruitless searches, retaining only the ones that produced useable results.
I don't want to give the impression that People isn't a useful tool—it is very helpful when it comes to hunting down missing names and numbers, so long as that information is available. A few tweaks here and there—the addition of a Clear Fields button on the search page, most notably—would improve People dramatically.
People is compatible with any iPhone or iPod touch running the iPhone 2.x software update.
[Philip Michaels is the executive editor of Macworld.com.]