At a Glance
Expert's Rating
Pros
10x zoom lens with optical stabilization
Can zoom while shooting video
Great range of features
Cons
Disappointing video quality
EasyShare software not compatible with Snow Leopard
Disappointing battery life
Our Verdict
When Kodak's 10-megapixel EasyShare Z915 was announced at this year's PMA show, one feature stood out on its spec sheet: its 10X optical zoom, rarely found on compact cameras, and definitely never seen on a camera of this price. To support its zoom range, the EasyShare Z915 uses optical image stabilization, which worked like a charm in our testing, even when subjected to severe shaking.
Though the 10X optical zoom range is impressive, it's only one of several features that make this budget-friendly camera an outstanding bargain. The Z915's Kodak Retinar zoom lens doesn't offer much at the wide-angle end (35mm wide angle to 350mm telephoto), but the camera's generous array of features should make it a big draw for anyone who wants to learn photography without dropping a ton of money on a megazoom camera or a digital SLR.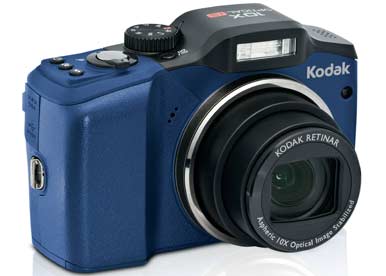 The Z915 comes through with the best range of manual controls we've seen in a camera at this price. The manual controls start with two modes traditionally found on cameras that cost $350 or more: Aperture Priority mode and Shutter Priority mode. Aperture settings are limited (F3.5, F6.2, and F8.3 only), but they enable you to experiment with different depth-of-field effects. Shutter speeds are much more extensive, ranging from 0.001 second to 16 seconds in shutter priority mode.
Along with Aperture Priority and Shutter Priority modes, the dial on the top of the camera offers seven other mode options: Smart Capture mode optimizes the camera's settings for the shooting environment; Sports mode handles fast-motion shots; Panorama mode stitches together up to three shots in-camera; Manual mode lets you adjust ISO levels, shutter speed, and aperture; Program mode allows you to adjust ISO levels and exposure compensation; Scene mode gives you 17 scene presets to choose from, including Portrait, Landscape, Beach, Snow, and Fireworks; and Video mode supports video capture.
Video mode holds another pleasant surprise: You can zoom in and out with the Z915's big lens while you shoot movies, a rarity with point-and-shoots. Unfortunately, video quality isn't much to e-mail home about. The standard-definition, 640-by-480 .mov files that the camera produces are fuzzy, and the auto-focus struggles mightily to adapt every time you zoom in or out.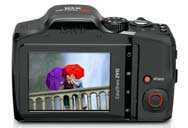 The Z915 has several other features that usually appear only in more-advanced, more-expensive cameras. Exposure bracketing, for example, allows you to take three shots in rapid succession at different exposure compensation values, and then pick the best one. This is also a great camera for low-light, no-flash shots. ISO equivalency settings range from 100 to 1600, and you can also resort to an Auto ISO setting and a High ISO scene mode. With manual ISO settings at 800 and 1600, we saw virtually no noise in our test shots; the High ISO scene mode, however, did produce a bit of noise.
Jury tests
| | |
| --- | --- |
| Image quality | Good |
| Color quality | Good |
| Flash quality | Good |
Scale = Superior, Very Good, Good, Fair, Poor
In our lab's jury evaluations for the Z915's image quality, the camera earned an overall score of Good, scoring especially well in color reproduction and exposure quality, but noticeably worse in sharpness and distortion level. Battery life is a bit iffy: The camera took 194 shots before its AA batteries ran out, for a battery life score of Fair. Many point-and-shoots exceed 300 shots before their batteries expire.
The Z915 is a bit bulky—4.2 inches wide by 2.9 inches tall by 1.4 inches deep—but that's not entirely a bad thing. It conveniently runs on two AA batteries (Kodak includes a pair of rechargeable AAs), and the battery compartment on the right side of the camera body makes for a handy and stable grip. Still the Z915 isn't the most fashionable camera on the planet, though it is available in black, blue, or red. The 2.5-inch LCD on the back is smallish and a bit dim, but the camera has a durable, hard-plastic build.
Controlling the camera is simple, and you'll find dedicated buttons for almost every major function. On the top of the camera is the nine-selection mode dial, the shutter button, the zoom ring, and three dedicated buttons next to the shutter for the flash, macro mode, and the self timer. That's a lot of buttons, but they're well spaced and responsive.
The back of the camera hosts the 2.5-inch-diagonal LCD screen (there's no additional optical viewfinder, which would be useful given the mediocre battery life) and four buttons that border the screen on the right side: a delete button, a menu button, an "information" button for toggling between display options, and a playback button. To the right of those four buttons are a Share button, which launches the included EasyShare software once you plug the camera into a computer's USB port (more on the software later), and a four-way directional pad for navigating the on-screen menus. On the side of the camera, a rubberized door covers a DC-in port, a micro USB port, and the battery/storage compartment (which houses two AA batteries and an SD/SDHC card).
The shutter response is insanely (and admirably) fast. We were able to turn the camera on and snap a shot in about a second. You won't miss many shots with this camera.
The Z915 comes with Kodak's EasyShare 6.1 software, but it's not really worth installing if you have iPhoto. EasyShare's organizational and editing features are inferior to iPhoto's. If you do have EasyShare installed, the software launches when you press on the Share button on the camera while it is connected to your Mac via USB. Perhaps the only reason for using the EasyShare software is if you use Kodak Gallery to share your pictures online, as well as order prints, books, and more.
If you are running Snow Leopard, don't bother with the EasyShare software—it crashed whenever we tried to launch it on an iMac running Snow Leopard. The Mac software itself hasn't been updated in some time; the Windows version is at 8.1.
Specifications
| | |
| --- | --- |
| Resolution (in megapixels) | 10 |
| Optical zoom/focal length (35mm equivalent) | 10x/35mm-350mm |
| Battery type | 2 AA (includes rechargeable Ni-MH batteries) |
| Media Slots | 1 (SD card) |
| Size (width x height x depth, in inches) | 4.2 x 2.9 x 1.4 |
| Weight (in ounces) | 7.8 |
Macworld's buying advice
The EasyShare Z915 is designed for people who care more about how their camera performs than how it looks. It's not a fashion accessory, but it's extremely versatile and offers buyers an inexpensive way to learn how to master different aperture settings, shutter speeds, and other in-camera tweaks. This is a $200 camera with a $400 range of features, even if the image quality isn't the best we've seen.
[Tim Moynihan is a senior editor for PC World. Macworld's James Galbraith and Roman Loyola contributed to this review.]