Epson on Thursday introduced its newest 24-inch and 44-inch Stylus Pro inkjets. The Stylus Pro 7900 and Stylus Pro 9900 cost $3,995 and $5,995 respectively and will be available in November.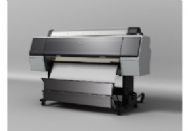 Designed for reprographic professionals and photographers looking to output large-format content, the new printers feature Epson's MicroPiezo TFP print heads with UltraChrome HDR ink. An optional in-line spectrophotometer can manage color in a printing workflow.
The printers feature a maximum resolution of 2880 x 1440 dots per inch (DPI) resolution with variable-sized droplets as small as 3.5 picoliters. Both Photo and Matte Black ink cartridges are used, depending on the media.
The printers can handle "any media type," according to Epson, roll or cut sheet, up to 24 and 44 inches wide using a straight-through media path. Epson also touts the printers' media loading technology, which simplifies the roll and cut-sheet media loading process. Rotary cutters can cut canvas and fine art papers.
The printers feature 11 individual ink cartridges, which come in 150, 350 and 700 ml capacities. And both printers also have 2.5-inch color LCD displays.