When a company forms specifically to publish games for Apple's iPhone, it's certainly worth noting. But when that company is headed up by two veterans of Electronic Arts who see the iPhone as hotbed for game development, it really grabs headlines.
Such was the case over the summer when Neil Young and Alan Yu formed Ngmoco, which has kept fairly quiet since then. That changed last week when Ngmoco—an acronym for "Next Generation Mobile Company"—announced its first three offerings for the iPhone, giving Macworld an inside look at both their efforts and how the iPhone game market is shaping up.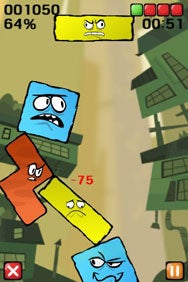 "I think that the focus of our business is to build the very best games we can for this platform," said Young, Ngmoco's CEO. "We're game makers and we've spent our lives making games. The iPhone gives us a canvas to produce games we've never seen before."
Ngmoco's first iPhone games
Ngmoco plans to pursue two different types of products with the iPhone. As Young explains it, the company will make premium apps— "what you might expect for a premier handheld gaming experience"— and what he describes as "fast apps," which cost $1 or less.
"And with those we hope to redefine what you think of as a free or 99 cent application," Young added.
Ngmoco's first "fast apps" are Topple and MazeFinger—both are now available from the App Store. Mazefinger is a free arcade-style action game that has you tracing a maze with your finger, while the $1 Topple encourages you to stack and balance differently-shaped objects without letting the teetering tower topple over.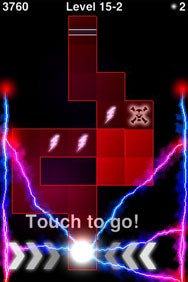 Ngmoco has also announced Rolando, which remains in development. This platform adventure game is the first of the premium titles that the company plans to make. In Rolando, you help lead the Rolandos to freedom over the angry darkness which has taken over their kingdom. The game features four worlds and 36 levels, and a pop visual style created by illustrator Mikko Walamies. Ngmoco hasn't yet announced a price.
Young says that Rolando leans heavily on the multi-touch and accelerometer features of the iPhone and iPod touch as part of physics-based puzzles the gamer has to solve. Young describes Rolando as "the first party game for the device."
Look for more announcements from Ngmoco about Rolando's status over the next three to four weeks. And there's more to come from the company after that. "These three are the first of over a dozen games in various stages of development," Young said.
The iPhone ecosystem
Ngmoco is publishing the games, which are being developed by independent developers the company is working with. "We're commissioning and creatively directing games at one end," said Young. "At the other end we help finance, produce or provide general support for games."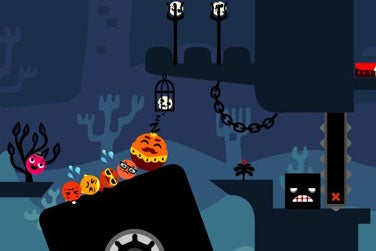 Young sees a "pretty vibrant independent development community growing around the iPhone," where Ngmoco can bring its experience and—perhaps more importantly—its capital to games. The company has received a round of financing from venture capital firm Kleiner Perkins, which established an iFund earlier this year to nurture iPhone-related businesses. Ngmoco also helps sponsor a $10,000 iPhone game development competition as part of the Independent Game Festival, part of the popular Game Developer Conference (GDC).
Young describes the App Store as "an effortless distribution system" that stands in marked contrast to the barriers a developer has to face to get a game out for an established handheld console, such as a Nintendo DS or Sony PlayStation Portable (PSP). Both of those businesses require most developers to go through a much more rigid approval process and secure retail distribution channels.
But still, barriers to success for iPhone developers remain, Young added.
"There's a lot of noise in the App Store," he said. "It's like going to Wal-Mart or Best Buy without any racks or meaningful merchandising—like being handed a list when you walk in the front door and seeing a big pile of software."
Crafting the product to better suit the medium
Already, some iPhone developers have expressed frustration with the App Store—developers who manage to get front-page placement or who can stay in the Top 25 lists meet with success, but if your application drops in ranking, it can fall out of site of consumers very fast.
Young hopes that Ngmoco can address that problem by leveraging PR and marketing that small independent developers can't manage themselves—perhaps by using online advertising and outreach methods that are off the beaten track for large companies.
"It might be banner ads, but more importantly, working with the blogosphere, building trusted relationships with customers and communicating using social networks," Young said.
"On a long term basis, it requires a different framework for how you build the software," Young added. Thanks to the constant churn of new apps on the App Store, "applications may not have the longevity that a developer would like. I think there's an opportunity for how we package our software, to find a way to deliver to customers in a format that will work better."
Young points to episodic content—an increasingly popular way of delivering small, digestible chunks of games—as one possible solution for some titles. "We can't just expect our old models to work," he said.
"People have a very different relationship with the iPhone" than they do with gaming PCs or consoles," Young said. "We shouldn't necessarily build games that take 40 hours to get the most out of. We can take this framework that is the platform, weave it into our development, and produce a more compelling game experience."
A vehicle for social networking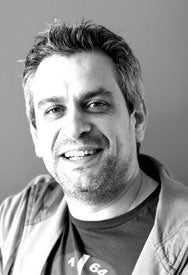 One thing that's missing from iPhone gaming, says Young, is a social component. That's one of the elements that makes Microsoft's Xbox 360 so popular, according to Young. Among other things, Microsoft's "Xbox Live" service lets gamers compete with each other, trade messages and more. Young envisions Ngmoco as instrumental in creating an Xbox Live-style service for the iPhone.
"One long-term aspect of our business is to introduce what I'd describe as Xbox Live for the iPhone," Young said. "A social networking system for tracking achievements, gamer tags, and scores. Something that will let you 'poke' and challenge other players through that network."
Young sees the iPhone and iPod touch as having near limitless potential as a gaming platform.
"If we build great software and it has a great distribution system, we'll be able to build a pretty phenomenal market. That together will make the iPhone the gaming machine of choice," he said.
[Peter Cohen covers Mac gaming for Macworld's Game Room.]