I have this idea for an iPhone or iPod Touch application that I'm willing to give away to anybody willing to take up the burden of developing it. It would be an app-version of Bill Bryson's fabulous Dictionary of Troublesome Words and it would be a bargain at just about any price (but $1 would be just dandy, thanks).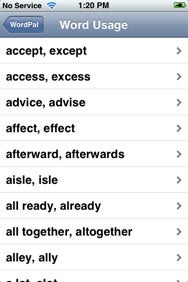 Bryson's book, which first appeared in 2002 and was followed by a larger volume dedicated to writers and editors, is pithy, charming, easy-to-read, contemporary and above all useful. I found myself reaching for Bryson often, along with my battered copy of Fowler's Modern English Usage, when I was managing editor of a quarterly book review and later writing newspaper editorials. I still do.
I couldn't help but think of Bryson's great little reference book when I started playing around with WordPal. What the app lacks in charm it attempts to make up in utility. The good news: WordPal is clearly a reference app with a great deal of potential. How could it not be? The English language is so rich and complicated and, as Bryson wrote, "willfully at odds with logic and common sense," everyone from the casual dabbler to the professional scribbler needs a guide to avoid the more pernicious pitfalls.
And the bad news? WordPal is clearly a reference app with a great deal of potential.
WordPal's interface is austere. When you launch the app, you see a primitive menu listing "Word Spelling" and "Word Usage." And that's it. Tap on "Word Usage," and you're given a list of commonly confused words and their proper usage. Tap "Word Spelling" and you get a list of frequently misspelled words, similar to a dictionary but without pronunciations or definitions.
The lists are helpful as far as they go, but simply do not go far enough. Word mavens will feel tempted first to seek out their favorite corruptions of the language. Invariably, they will find themselves saying, "Ah, but what about…!" or "Why didn't they include…?" Here are a few pet peeves of mine that didn't make WordPal's cut: all right vs. alright, acute vs. chronic, avenge vs. revenge, and founder vs. flounder. Readers will come up with enough of their own, I'm sure, to double or triple the size of WordPal's lists in no time.
One obvious remedy would be to introduce an element of customization to the app and let users add their own commonly misspelled or misappropriated words. Barring that, the developers shouldn't release an update without beefier content. It would be nice, too, if WordPal cross-referenced its spelling and usage lists.
Limited as the lists may be, the menus—especially the spelling words list—really need an A-Z scroller. My finger nearly cramped as I scrolled through the list of commonly misspelled words. (OK, I exaggerate—but only a little.) This seems like it should be an easy technical addition to a future update.
I doubt that any app could ever replace Bryson's Dictionary or Fowler's Modern English Usage, but WordPal deserves credit for aiming for a simple, easy-to-use language guide for the iPhone and iPod touch. Over time, an app such as WordPal will be a welcome and worthy addition to any self-respecting writer's reference-app collection.
The application is compatible with any iPhone or iPod touch running the iPhone 2.x software update.
[Ben Boychuk is a writer and columnist in Rialto, Calif.]