This November 1, marks the first day of National Novel Writing Month. It's a fantastic event where regular people are encouraged to write a 50,000-word novel in 30 days.
If you always wished you could find the time to write a novel, maybe November is the right month to finally make that dream a reality.
In order to encourage Macworld readers to unlock their creativity, we've published several articles on topics related to NaNoWriMo. Today you'll find articles from three Macworld contributors who have participated in the event and met the 50,000-word goal several times. In " Write a novel in 30 days", Nathan Alderman gives you a tour of some of the best Mac tools for helping you organize and write your novel, as well as track your progress. Alderman also contributes a blog entry, " Advice from a noveling veteran," with some sensible tips about how to make it to 50,000 words. (One of his suggestions—blogging your novel—seems pretty crazy. But the fact is, reading Nathan's progress was an inspiration to me, and knowing that a few people were reading mine as I wrote it was a great spur to keep me writing.)
Our own Dan Moren contributes " Surviving 30 days of noveling," his own pep talk about how he's managed to write several novels during Novembers past, including his admission that he's written entire novels using an old copy of AppleWorks.
As for me, I've completed NaNoWrimo the past two years, the result of which is a single 160,000-word manuscript that I hope to publish one day. But in many ways, the prospective publishing of that novel is beside the point. The personal accomplishment, the thing that I can cross off my life list as if I had climbed a tall mountain, was writing the thing. And I would never have done that without the spur that National Novel Writing Month gave to me.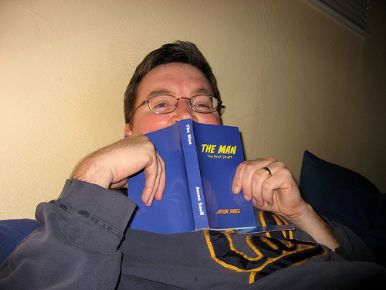 As Dan and Nathan both point out, you don't need to use fancy tools in order to write a novel. Dan used AppleWorks; his mom used TextEdit. Back in the day, I used to use the built-in text editor in Eudora—talk about no features!—to write innumerable stories and articles. But that doesn't mean that your Mac can't be a great help in planning your novelistic attack, and in the past few years we've seen a real blossoming of new creative tools for Mac users.
My first year of NaNoWriMo was spent inside BBEdit, still my text editor of choice for most tasks—it's where I'm writing this very entry, in fact. But I plotted my novel itself in OmniOutliner. The second year, I adopted Scrivener, which combines a solid text editor with a bunch of outlining and organizational features, not to mention a progress-report function that made sure I met my deadlines and made it to 50,000 words in time.
The tools
We've reviewed most of the major Mac novel-writing tools, and you'll find links to them in this article and in Nathan's overview. But I've also contacted the companies who produce those tools and asked if they've got any special deals or demo versions available, in case you want to test-drive one during November.
Literature and Latte's Scrivener has a 30-day trial version, and through the end of November, Macworld NaNoWriMo participants can enter the coupon code NANOWRIMO in Literature and Latte's online store to receive a 15 percent discount.
Blue Technologies' Ulysses offers a 60-day trial version. If you try it and like it, Macworld NaNoWriMo participants can get a 25% discount between November 1 and December 31 by entering NaNoWriMo in the coupon field of the Blue Technologies web store.
Hog Bay Software's WriteRoom has a 30-day trial version. And if you like it and want to buy it, enter NANOWRIMO as the coupon code and you'll get a $5 discount.
Mariner Software's StoryMill also has a fully-functional 30-day trial, and Macworld NaNoWriMo participants can get 25% off any Mariner application by entering the promo code nano in the Mariner eStore.
Most other tools also offer demo versions, so if one of the products we reviewed piques your interest, give it a try.
Let's do this together
And if you decide to take the plunge and need support, we can offer that too. Visit our NaNoWriMo support thread in the Macworld forums for more information about Macworld editors, writers, and readers who are participating in this year's event. You can add me as a buddy on my NaNoWriMo user page. And Dan Moren's there, too.
NaNoWriMo is a fantastic way to harness your creative energies and do something you never thought you'd do. I've completed NaNoWriMo each of the past two years and I highly recommend it. Come and join us in 30 days of literary abandon.
Editorial Director Jason Snell hopes that his first novel gets published someday. In the meantime he's writing the next one.