They say the world just keeps getting smaller these days: Now it's so tiny, you can fit the whole thing in your pocket. Google has released an iPhone version of their popular Google Earth application.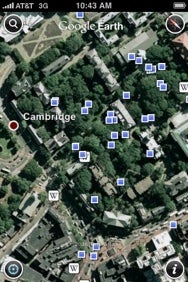 Like its desktop counterpart, Google Earth for iPhone lets you browse and search around the globe, finding locations such as businesses and other points of interest. Google Earth is fully adapted for the iPhone's controls, allowing you to pinch to zoom and swipe your way around the globe. There's even an option that allows you to use the iPhone's accelerometer to tilt the angle of view. The app also takes advantage of the iPhone's location features, so you can quickly jump to your current location or easily search for results near you.
While Google Earth for the iPhone doesn't have all the bells and whistles of the Mac and PC versions, additional layers of information allow you to view Wikipedia articles on certain locations and geo-located photos from Panoramio. Google Earth is a free download from the App Store, and requires an iPhone or iPod Touch with version 2.0 or greater of the iPhone OS.