If you've ever found yourself in an unfamiliar neighborhood, wondering if a particular restaurant is any good, or in the book store trying to decide what should be next on your reading list, you might be a candidate for social-networking service LivingSocial's new iPhone app of the same name.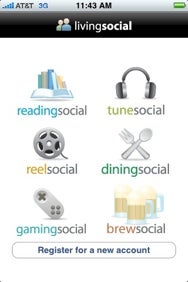 The idea behind LivingSocial is simple: share your opinions on a variety of things, from books to games to food and drink, while simultaneously reaping the benefits of others' thoughts on the same. The advantage of bringing the application to the iPhone is that you can not only access the information on-the-go, but also record your opinions on topics as you experience them: no need to wait until you get home to review that movie or comment on the dish you ordered at the restaurant.
LivingSocial also allows you to take pictures of the items you're reviewing, rate them, and access your friends' and family members' catalogs and reviews. You can even link it with other social networking services such as Facebook and MySpace.
At present, the service boasts over 6 million users, who have cataloged nearly 100 million items. LivingSocial is a free download for iPhones and iPod touches running iPhone OS 2.0 or later; it also requires you to register for a free account.