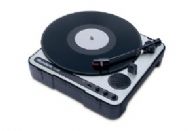 Numark on Thursday introduced the PT-01USB, a portable vinyl record archiving system. The system is shipping now for $149.
The PT-01USB is battery-powered (it can also be powered using an AC adapter) and connects to a Macintosh or Windows PC using USB 2.0. It features a protective dustcover and integrated carrying handle, and is designed for portability.
Software included with the device enables you to automatically rip audio from a vinyl record to MP3 file; EZ Audio Creator 2 is the Mac software. Audacity is also included, to help reduce the effects of clicks, pops and other noise in tracks.
The device features a belt-drive motor and can operate at 33, 45 and 78 RPM. A built-in speaker lets you monitor your recordings, and you can adjust pitch control up or down up to 10 percent. The device also sports RCA line and headphone outputs, so you can connect it to a sound system if you want.
Editor's note: Updated with pricing and shipping information after Numark provided details.