Ever since the iPhone first appeared, its potential as a mobile blogging tool was readily apparent. Bloggers on the go would be able to tap out short, informative posts from wherever they happened to be, maybe even using the phone's built-in camera to post mobile pictures as well.
Of course, there was just one roadblock to this paradise of phone-based blogging: the iPhone unveiled in 2007 didn't come with any software to support such a thing. That had to wait until Apple released its iPhone SDK and flung open the doors of its App Store to third parties. But now that those two things happened over the summer, bloggers-on-the-go have several choices for making sure that a weblog update is never more than a few taps away.
But which of those choices is the best option for the iPhone-toting blogging set? To find out, I downloaded three of the App Store's more popular options—TypePad, WordPress, and iBlogger—and put each one through their paces.
TypePad
The TypePad iPhone blogging app—also named TypePad—only works with TypePad blogs. If you are unfamiliar with TypePad, it's a product of Six Apart, the makers of the Movable Type blogging software. Think of TypePad as basically a paid, hosted version of Movable Type aimed at pro-bloggers who want to use Movable Type but aren't interested in hosting it themselves.
As soon as you launch TypePad on your iPhone and log into your TypePad account, you'll see three options: Create a Post, Take a Photo, and Add a Photo. (Note that the app only works with one TypePad account at a time, but you can post to all blogs and photo galleries that are associated with that account.) Tapping on Create a Post takes you to the post creation screen where you can add categories (existing categories are retrieved from your TypePad blog), add a photo (either an existing image from your Photo Library or one you shoot with the iPhone's camera), and write the text of the post. Text entry is pretty barebones: if you want to add a link, or format text you have to hand type in HTML code.
Take a Photo is a great option when you want to snap a quick pic with your iPhone's camera and post it to your blog. (Since the iPod touch doesn't feature a built-in camera, touch users won't be able to take advantage of this comamnd.) Tapping that option takes you right into the camera app; take a picture and it's immediately inserted into TypePad's posting screen. Add a title and a category (if you want), and you're ready to post the picture right to your blog.
As of this writing, there appears to be a bug in which pictures inserted into posts are slightly cropped. This behavior isn't limited to TypePad, however; the same thing happened to me when I used iBlogger. (It did not happen with WordPress). Given that this bug exists in two completely different apps, I'm ready to lay the blame at the feet of the iPhone software, not the apps themselves. Still, that doesn't make the cropping any less annoying.
On the bright side, TypePad inserts pictures in such as way that they are displayed at the largest size that your blog settings allow. The pictures are nice and big on your blog, so everyone can appreciate that photo of what you had for lunch.
Add a Photo is very similar to the Take a Photo option, letting you quickly start a blog post with a picture from your camera roll.
TypePad's mobile edition is clearly designed for writing new posts on the go. You can't edit existing posts on your blog—in fact the TypePad doesn't even list your current posts—but you can save a post to your iPhone and edit it later.
All in all, TypePad is great if you're looking to post pictures taken with your iPhone's camera to your TypePad blog, though I wouldn't use it to draft long, text laden posts. That's mostly a limitation of the device itself—the iPhone's keyboard and size aren't ideal for lengthy typing sessions.
WordPress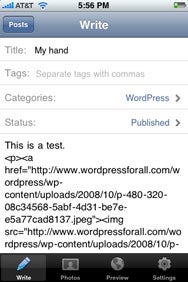 Much like its TypePad counterpart, the WordPress blogging app for the iPhone only works with one blogging platform: WordPress, in this case. This is the official WordPress iPhone application put out by the people who make WordPress (and interestingly, one of the first open-source iPhone applications). The app supports posting to multiple WordPress blogs (both self-hosted and WordPress.com blogs are supported), and, unlike TypePad, it will pull down your last 10 posts so you can edit them right on your iPhone. (You can adjust WordPress's preferences so that you can get more posts.)
Posting works very much like posting on any WordPress blog. Tap the new post button, and you're taken to a screen where you can add a title, tags, categories, status (published, draft, and the like), and finally the post body itself. (Existing tags and categories are pulled from your blog.) As with TypePad, WordPress requires you to enter any special formatting or links by hand-coding them—there's no WYSIWYG editor here.
WordPress lets you attach photos to a post—in fact, you can attach as many pictures as you like. You can choose from photos from your iPhone's camera roll or take a new picture and insert it directly into the post. The WordPress app must use a different method for photo insertion because the photos are not cropped (which happens with the other two blogging apps I'm reviewing here). On the other hand, the WordPress app gives you little control over how the image is displayed in the post. Photos are inserted at the end of the post; if you want to add text after them, you have to do it manually.
WordPress's iPhone offering also lets you password-protect posts and schedule the date on which they are posted. That latter feature lets you backdate a posts or post something with a future date.
iBlogger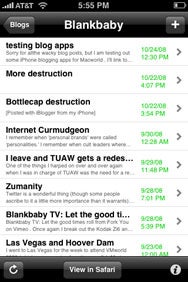 From illumineX (the people who make the Mac blogging client ecto), iBlogger is the only app out of this trio that isn't free. But you do get some interesting features for your $10. First off, iBlogger supports a veritable cornucopia of blogging engines including both TypePad and WordPress as well as Movable Type, ExpressionEngine, and Xanga, among others. That's a great feature if you're like me and have a number of different blogs powered by different blogging engines.
iBlogger lists the last 11 posts on your blog, and you can edit and delete those posts to your heart's content. There is a View in Safari button at the bottom of the post-listing screen which will launch your blog in Mobile Safari so you can check on the status of a post.
Another great feature of iBlogger is the clever Link button in the post form. Typing the HTML code for a link via the iPhone's on-screen keyboard is a little cumbersome to say the least. The Link button offers a work-around by prompting you for a URL and linking text. iBlogger then inserts the HTML code for you—a big time saver when you're trying to blog on a bus.
iBlogger takes advantage of the GPS built into the iPhone 3G (or the location features in the original iPhone and iPod touch) by sporting the ability to insert a link to a Google Map that shows where you were when you posted a particular item to your blog. Like all the best location-aware applications, this is both cool and creepy at the same time.
All is not sunshine and trackbacks with iBlogger, though. Even though iBlogger is a paid application, it inserts a link at the end of every post you compose that points to the iBlogger Web site. You can turn this default setting off in the applications preferences, but it seems to me that if I am paying for an app, I shouldn't have to advertise for it as well.
The Bottom line
All three of these apps are fine blogging clients. The choice of which to use really comes down to which blogging engine you use. If you are solely blogging on WordPress or TypePad then the official—and free—iPhone clients for those systems will suit you very well. If you're looking for a little more power and flexibility in terms of features and what blogging engines you can post to, then iBlogger is well worth its price tag.
All apps in this round-up are compatible with any iPhone or iPod touch running the iPhone 2.x software update.
[Scott McNulty is a senior contributor for MacUser and blogs at blankbaby.]