You may enjoy working with photos and editing video, but that doesn't mean you want to spend all your free time in front of the computer. Even creative pursuits can entail tedious tasks and wasted time. By mastering these simple iLife tricks, you can speed through the boring parts and get back to doing what you love.
Fast Photo Naming
Get in the habit of giving titles to your best shots: Sophie at the Beach is a lot more descriptive than DSC9384.JPG. By investing just a little up-front effort, you can save time down the road; iPhoto '08 can use your titles as a search tool or include them in projects, such as books and Web galleries. Here's a handy shortcut for quickly adding titles to a group of photos without having to reach for the mouse. First, be sure titles are displayed beneath each photo thumbnail (choose View: Titles). Edit the first photo's existing title and then press command-] (right bracket) to jump to the next photo. The title bar will already be selected, so you can start typing right away.—Jim Heid
Combine Book Themes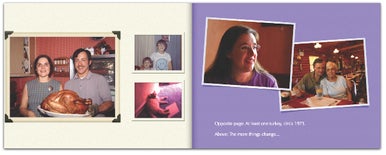 Frustrated that iPhoto makes you commit to just one design theme when you're creating a book? If you use Leopard, you can work around the problem and mix and match themes as you wish. For example, maybe you want to use the Line Border theme for a book commemorating a family reunion, but you'd like to start the book with a couple of pages based on the retro-looking Family Album theme.
First, create a new book, and choose the theme you want to use on only a few pages (for my example, I'd choose the Family Album theme). Create the pages you need, and then choose File: Print. In the Print dialog box, choose Save PDF To iPhoto from the PDF pop-up menu, and then click on Print. iPhoto creates a PDF of each of the book's pages, converts them to JPEG images, and adds them to your iPhoto library. Next, create a book based on the primary theme that you want to use (in my example, the Line Border theme). Now drag the pages you made earlier into your new book (look under the Last Import item in the Library pane). To have one of the images fill the page, choose One from the Layout pop-up menu, and choose the topmost option from the submenu. By the way, you can use these "page images" elsewhere, too: you can turn one into a poster or use it as the front of an iPhoto greeting card.—JH
The Secret Slide-Show Crop
Want to crop a photo that appears in a slide show, but don't want it to be cropped elsewhere in iPhoto? Look to the Ken Burns feature. Although typically used for adding motion effects to photos, this feature has other tricks up its sleeve. With the photo selected in the slide-show editor, select the Ken Burns option, and move the toggle to Start. Use the zoom slider to position the photo as you want it to appear; then option-click on the End button. The option-click tells iPhoto to copy the zoom setting of the Start position to the End position. You can also use this trick to pan across an image without zooming in.—JH
Start a Group Photo Project
The next time you're hosting an event where lots of people will be taking photos—such as a wedding reception or a holiday gathering—make it easy for everyone to share their snapshots. If you have a $99 MobileMe account, you can create your own photo-sharing site that other people can contribute to—even if they're not MobileMe users. In iPhoto '08, select an album or a group of photos and then choose Share: MobileMe (or just click on the MobileMe button in the toolbar). In the dialog box that appears, turn on the Adding Of Photos Via Email and Email Address For Uploading Photos options. Now visitors to your gallery can add their own photos by e-mailing them to an address that MobileMe provides (you'll find it in the top right corner of iPhoto's MobileMe Gallery page). The result is a collaborative gallery containing shots you may have missed. If you set up the gallery in advance of an event, you can even include the upload e-mail address in printed or electronic invitations.—JH
Customize Buttons
If you create a lot of slide shows, save a few clicks by adding a Slideshow button to iPhoto's toolbar. Choose View: Show In Toolbar: Slideshow.—JH
Add Tables and Charts to Your Site
Need to add a price list or a page of team statistics for your kid's soccer league to your Web site? iWeb's rudimentary word-processing tools don't support tabs and tables, but if you have Apple's iWork '08 or Microsoft Office, you're in luck. Simply create the table in Word or Pages, and then copy and paste it into iWeb.
If you're using Pages '08, you'll need to select the table in a special way to preserve its formatting: Select one table cell so that it has a blue highlight around it, and then choose Edit: Select All. The table should be surrounded by a blue highlight. Now copy and paste as you normally would. You can also paste other elements from Microsoft Office and iWork into iWeb, including charts, graphs, and tables created in Numbers and Excel.—JH
Expand Your iWeb Horizons
Want to go beyond the design templates that are built into iWeb? Head to 11Mystics, where you'll find nearly a dozen beautiful iWeb templates that range in price from $11 to $15. The Zones template, for example, sports an uncluttered, fast-loading design; its muted look makes it ideal for photo-intensive sites. At the opposite end of the clutter spectrum, the Mailroom template offers dozens of floating design elements—big letters, faux sticky notes, thumbtacks, and more—that you can use and abuse.—JH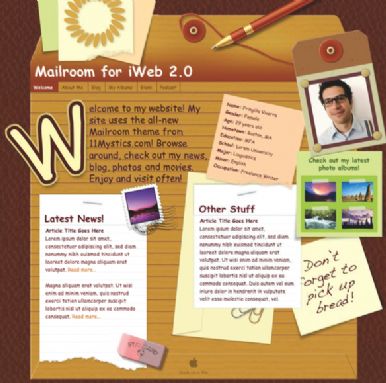 Get Feedback on Your Photos
One of the things that makes photo-sharing sites like Flickr so popular is that visitors can comment on photos and interact with the photographer. If you have a $99 MobileMe account, you can add the same feature to your iWeb '08 photo galleries.
To set this up, open iPhoto and select the photos you want to use in your photo page. Choose Share: Send to iWeb: Photo Page. iWeb creates a new Photo page with your images and then presents a window where you can choose a template style. Once you have your page set up, open the Photos Inspector (command-option-I) and, in the Photos tab, select the Allow Comments option. By the way, you can go a step further and allow your visitors to post attachments along with their comments. Just select the Allow Attachments option, too.—JH
Add Metadata to Videos
When you export a movie from iMovie or QuickTime Player, the video file contains very little metadata—information about the file. Using iMovie's Sharing menu to export directly to iTunes adds the title, but that's it (select a movie file in iTunes, choose File: Get Info, and then click on the Info tab to see this information). To add more metadata, you can edit the movie in iTunes, but a better option is to fire up Lowell Stewart's Lostify (payment requested). In addition to basic tags such as Name and Artist, Lostify can embed information that iTunes doesn't edit, such as copyright information, rating, and cast and crew listings.—Jeff Carlson
Add Color Effects to Movies
iMovie HD 6 and earlier iMovie versions included effects that could convert footage to black and white or to sepia tone. iMovie '08 did away with these effects, but you can still easily change the appearance of your video. To make your movie black and white, select a clip and click on the Adjust Video button in iMovie's toolbar (or press the V key). This brings up the Video Adjustments HUD. Now simply drag the Saturation slider to 0 percent.
If you're looking for a washed-out sepia appearance, first open iMovie's preferences (command-comma [,]) and turn on the Show Advanced Tools option, which adds more controls to the Video Adjustments HUD and other areas of the program. Select the clip you want to alter and press the V key. Set Saturation to 0 percent, and then drag the Red Gain slider to 143 percent, the Green Gain slider to 90 percent, and the Blue Gain slider to 53 percent (feel free to tweak these settings to customize the results). Click on Done when you're finished. Note that the clip thumbnail still appears in color, as the video was shot, but the preview reflects your changes.—JC
Rotate and Crop Video
A lot of video is captured with digital still cameras nowadays. And people often turn their cameras 90 degrees to get tall objects into the frame. However, video is always horizontal, so that footage ends up rotated when you bring it into iMovie. In the past, you had to use QuickTime Player or another utility to turn the footage, but now iMovie '08 can handle that job. Select the clip and click on the iMovie toolbar's Crop button (or press C). Click on one of the rotate buttons at the top of the preview window to rotate the image 90 degrees clockwise or counter-clockwise. iMovie automatically crops the image; you can drag the edges of the crop area to redefine its size or drag within the area to reposition it.—JC
Import Problematic MPEG Video
Some digital still cameras and video cameras that record to an internal hard disk or solid-state memory save footage in the MPEG format. But iMovie has a hard time working with these files, resulting in video files with no sound or files that won't open at all. The free MPEG Streamclip from Squared 5 can help. It converts a multitude of video formats (including AVI and VOB) to iMovie-readable formats.—JC
Smart Delete in Map View
The Map view, which displays the hierarchy of your project's menus and files, is one of the most useful areas of iDVD '08. For example, you can use it to quickly drag movies and slide shows between submenus. But if you delete a submenu, you'll also eliminate everything it contains, including video files and other submenus. If you want to remove only the submenu, but not its contents, control-click on it and choose Smart Delete instead. The submenu will disappear, but its movies, slide shows, and submenus will remain. This lets you reorganize your DVD structure without dragging everything to new locations.—JC
Share iTunes Between Users
Your music is stored on your computer's hard drive, but if you use Fast User Switching to work within multiple user accounts, your library may as well be locked in a vault. To solve this problem, open iTunes' preferences in the account where the library resides, click on the Sharing icon, and enable the Share My Library On The Local Network option. In other user accounts, go to the same area of the preferences and enable Look For Shared Libraries. As long as iTunes is running in one account and sharing is turned on, you can connect from another user account as if you were sharing a separate machine on your network. Look for the shared library under the Sharing category in the sidebar.—JC
Jam into Reverse
Want to produce your own Revolution 9 with reverse guitar and vocal tracks? Record your soon-to-be-backward track in GarageBand, mute all other tracks, and use the Share: Export Song To Disk command to export the track as an AIFF file. Then use an audio editor such as the free Audacity to reverse the file you exported from GarageBand (in Audacity choose Effect: Reverse), and save the results as an AIFF or WAV file. Import this backward file into GarageBand, and the sound will take you back to the '60s.—Christopher Breen
Change Instruments
When you pull up the Loop Browser in GarageBand and drag a software-instrument track into the timeline, bear in mind that you can use any sound you like for that track. For example, just because a loop is called Dreamy Guitar Pattern doesn't mean you have to use a guitar sound with it. After dragging the loop to the timeline, double-click on it and choose a different software-instrument sound. The notes or beats will be played by the new instrument. This is useful when you want a more aggressive drum sound than the one Apple supplies.—CB
Add More Sounds
GarageBand '08 supports E-mu Systems' SoundFont sampled-sound file format. This means that you can add additional sounds to GarageBand for free (or for a very small fee). Type soundfont into Google to find one of the many sites that offer free SoundFonts; HammerSound is a good place to start. Once you've downloaded a few, place them in the /Library/Audio/Sounds/Banks directory. In GarageBand, create a new software-instrument track, click on the Details triangle, select DLSMusicDevice from the Instrument Generator pop-up menu, and click on the Edit button next to that selection. In the window that appears, choose your SoundFont from the Sound Bank pop-up menu. Note that not all SoundFonts are compatible with the Mac.—CB
Add a Web Form to Your Site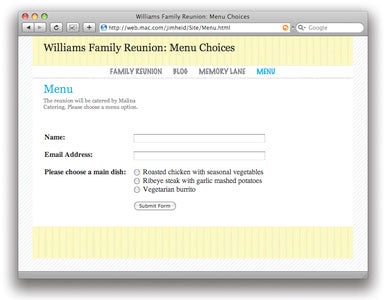 Looking for a way to get feedback from your site visitors? Or maybe you've created a site for your family reunion and you need a way for attendees to specify menu and lodging choices? Web forms are ideal for jobs like these. With Response-O-Matic, you can add a form to your site in a few minutes.
Start by signing up. The basic service is free. When someone completes your form, you receive an e-mail containing the information that he or she supplied, or for a $9 monthly fee, you can have the form results saved as a downloadable Excel spreadsheet. The site offers a straightforward wizard for creating your form. When you're done, choose HTML Snippet from the Web Widgets pop-up menu. Paste the resulting HTML into iWeb's HTML Snippet box (Insert: HTML Snippet), resize it as desired, and then click on the Apply button.—JH
Speed Up H.264 Encoding
One way to speed up video encoding is to throw hardware at the problem, and that usually means upgrading to the most powerful computer you can afford. Instead of spending thousands of dollars, however, you could turn to Elgato's Turbo.264, which gives you a dedicated video processor for $100. The Turbo.264 is a hardware dongle that plugs into a USB port and takes over video encoding, freeing up your Mac's processor for other tasks. You can use the included Turbo.264 software to do the encoding (which includes presets for common devices such as the iPhone, the iPod, the Apple TV, and even Sony's PlayStation Portable), or you can specify settings in QuickTime Player and many other applications that export video using QuickTime. Since the encoding hardware is included in the dongle, the Turbo.264 also turns an old Mac—that otherwise wouldn't be up to the task—into an effective encoding station. The latest version of the software can also upload videos to YouTube.—JC
[Christopher Breen is a Macworld senior editor. Jeff Carlson is the managing editor of TidBits , a columnist for the Seattle Times, and the author of iMovie '08 & iDVD '08: Visual QuickStart Guide (Peachpit Press, 2008). Jim Heid is the author of The Macintosh iLife '08 (Peachpit Press, 2008) and its companion Web site.]