OS X's Front Row interface is a fine choice for watching movies or TV episodes you've purchased at the iTunes Store. But if you want to play media from sources other than the iTunes Store, Front Row isn't much use. There's an alternative solution: a free, open-source media center application called Plex. Though still in beta as of this writing (and suffering from some prerelease instability), Plex is extremely flexible and customizable—a great media player for geeks.
Plex versus Front Row
There are plenty of reasons to consider using Plex instead of Front Row. Among the more compelling:
Plex can play back a wider range of video and audio file formats than Front Row, including AVI, MPEG files you've downloaded via BitTorrent, FLV Flash files you've downloaded from YouTube, and Ogg Vorbis audio files.

Plex can play media streamed from shared network drives. That means you could host your video collection on an old Mac or Windows PC stashed somewhere out of the way, and still watch it on the Mac in your living room, office, or bedroom.

Plex can play large video files that are split up and packed into archives—such as RAR or ZIP files you might download from Usenet—without requiring that you extract them first.

Plex works with universal-remote controls, such as Logitech's Harmony controllers, as well as the Apple Remote.

Plex has some handy informational widgets—a news ticker, a weather forecast, and system information—built in.

Plex is more customizable than Front Row: you can add plug-in scripts to get features like YouTube integration, and install a custom skin to update its look-and-feel.
All that said, Plex isn't perfect. It can't play purchases from the iTunes Store. Its handling of photos from iPhoto is less than smooth. And the Apple TV can't play videos from your Plex libraries.
Those caveats aside, if you want to play videos you didn't get from the iTunes Store, Plex works great.
What You'll Need
To run Plex, you'll need an Intel-based Mac running Leopard. (The software does not run on PowerPC models or on Tiger.) You can use Plex either at your desk with a mouse and keyboard, or on a Mac-connected TV.
Plex can stream media from any other Mac (or Windows PC) on your home network, so the video files themselves can reside on any shared drive in the house. But the Mac running the Plex software itself still needs to be connected to the TV. (A Mac mini or a MacBook is best; you won't want an iMac or Mac Pro next to your TV.) And if you want to control Plex remotely from the couch, that Mac will have to be in the line of sight from your seat; next to the television is the best spot.
Finally, you'll need to download the latest release of Plex. Mount the Plex disk image, and then drag and drop Plex into your Applications folder.
Navigating Plex
When you first launch Plex, you'll come to its home screen, which includes the main menu; from there, you can select from Videos, Music, Pictures, Weather, and Scripts. You can use the mouse or your keyboard's up- and down-arrow keys to select any menu item.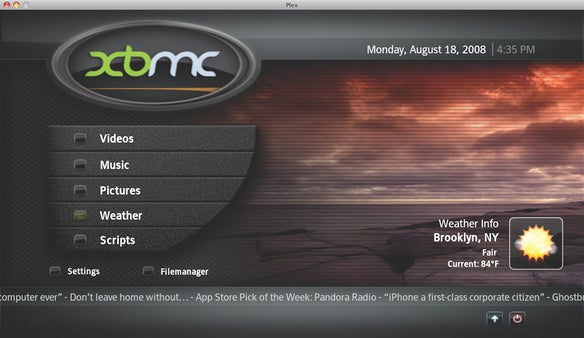 To get started, you need to tell Plex where to find your media files. The program maintains a list of Videos, Pictures, and Music sources—paths to folders located on an internal or external hard drive or on the local network. You can set up multiple sources in Plex—one for Jack's Movies, one for Jill's TV Shows, and one for the kids' cartoons. Each computer on your home network can have its own shared video folder where anyone can drop downloaded clips or save ripped DVDs.
To start watching a clip in your video collection, double-click on Videos, then click on Add Source to browse to the folder where it's stored. Once your video collection folder appears under Plex's Videos source list, simply double-click on it to browse the folder's contents and start watching any file.
Plex Keystrokes
| | |
| --- | --- |
| Keystroke | Function |
| arrow keys | Navigate menus |
| page up, page down | Scroll up, down |
| esc | Return to previous menu |
| backspace | Go back (or up) a directory |
| spacebar | Pause |
| tab | Minimize video |
| . | Move forward one track or chapter |
| , | Move back one track or chapter |
| | Full-screen toggle |
| – | Volume down |
| + | Volume up |
| P | Play |
| F | Fast-forward |
| C | Contextual menu |
| R | Rewind |
| X | Stop |
| M | Player controls |
| S | Shut-down menu |
| I | Get info |
| Q | Queue item to current playlist |
| Z | Change aspect ratio |
You can use the mouse to drive Plex, but some actions (like going into full-screen mode for video playback) require a keyboard. If you have a remote control, you'll need to use these keyboard shortcuts only during Plex's initial setup. After that, the buttons on your remote will offer a much more intuitive interface.
By default, videos show up in Plex as boring, generic icons—until you add DVD covers and album art. Plex can automatically download album art for music, DVD covers for movies, and even promo images for TV episodes from IMDb or any other source you choose.
To get DVD covers for your movie files, for example, browse to your Videos source list. Select the source folder and press C to invoke Plex's contextual menu. There, choose Set Content and, next to This Directory Contains, select Movies. In the art source list, choose where you want Plex to pull DVD art from. (I've had great success with IMDb. Depending on how you've stored your video collection, you may want to select Use Folder Names For Lookups (if you've given folders movie or show titles) or Scan Recursively (if you've got subfolders of video clips). Click on OK. Depending on how big your collection is, you may have time to go get yourself a beverage.
Plex will now scan the folder for video files and, based on their file names, add cover art as well as cast and plot-summary information. (To see the director, plot summary, cast details, and trailer, select the video file, press C to invoke the contextual menu, and choose More Information.)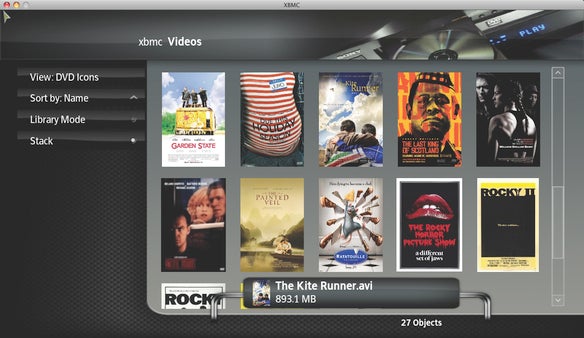 If you have TV episodes in your collection, follow the same process—except set This Directory Contains to TV Shows. In your music collection, select the source folder, press C to invoke the contextual menu, and choose Scan To Library. To get song information for any individual file, select it and press I.
Do More with Plex
Plex's open architecture and the long history of XBMC, from which Plex was derived, mean that there are lots of useful scripts out there that can enhance the application. To view and install them, choose Scripts from Plex's home screen.
By default, Plex comes with Tetris and a YouTube script that browses and streams clips from the popular video-sharing site. To browse and install other plug-ins available for Plex, run the XBMCscripts script.
If you find Plex intriguing, keep an eye out for another Mac XBMC port called Boxee, which adds social-networking features, such as the ability to share files and recommendations with your friends. Boxee is currently in private alpha testing.
[Gina Trapani is the lead editor of Lifehacker and the author of Upgrade Your Life: The Lifehacker Guide to Working Smarter, Faster, Better (Wiley, 2008).]