After months of back and forth, AT&T has finally made official its plan to offer free Wi-Fi access to iPhone owners. The deal, which applies to thousands of AT&T hot spots in the U.S., also includes company-owned Starbucks locations that offer Wi-Fi access.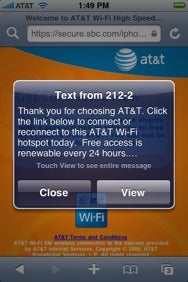 To take advantage of the access, iPhone owners must join the "attwifi" wireless network at a participating location, then enter their ten digit mobile phone number into a Web form. They'll then be sent a free text message with a hyperlink; tapping on that link will begin the session. AT&T says free access is renewable every 24 hours, but the process must be completed separately for each different location.
AT&T's free Wi-Fi plan has a checkered history: the service first appeared last May only to disappear shortly thereafter; some speculated that this was because it was a simple matter to have other Wi-Fi clients pretend to be iPhones, netting free access to a service that AT&T normally charges for. The following week AT&T's Web site said that hotspot access was included in iPhone plans, a reference which was quickly removed. In July, information on free Wi-Fi access once again appeared on AT&T's site, only to be once again removed.
I've personally tried out the service and gotten it to work at my local Starbucks, and an AT&T spokesperson confirmed to Macworld that the launch is official this time.