Western Digital (WD) on Thursday announced the addition of a FireWire 800 interface to its My Passport Studio external portable hard disk drive. the drive is available starting at $199.99.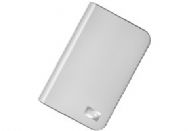 My Passport Studio is aimed specifically at Mac users — it's a Mac-formatted drive (though it works in Windows too), but up until now it's only had FireWire 400 and USB 2.0. With this announcement, the My Passport Studio is now equipped with FireWire 800 as well, making it more suitable for MacBook Pros and other systems equipped with the faster FireWire connection.
Features include an illuminated capacity gauge that shows you how much space is available; support for FireWire or USB power; and Time Machine support. A drawstring carrying bag and cables are included.
The My Passport Studio is available with 500GB for $249.99, 400GB for $229.99 and 320GB for $199.99.