NCsoft on Thursday announced plans to release its long-running massively multiplayer online (MMO) game City of Heroes on the Macintosh. The game is expected to go into open beta in November, with a general release to follow for $19.99.
City of Heroes is a superhero-themed MMO that casts you in the role of costumed hero or villain, squaring off against your foes in Paragon City. Following an devastating invasion from outer space from a species called the Rikti, Paragon City—home to superheroes everywhere—had been decimated; only eight were left. That left a vacuum to be filled, and that's where you come in—at least, if you choose to be a hero. You can also be a costumed supervillain, if you prefer, filling that vacuum with your nefarious plans for domination and control.
The game lets you complete a wide variety of missions, and extensively customize your character's image and capabilities. You can form your own super-group, explore the city, and participate in more than third ongoing story arcs as heroes and villains battle for control in Paragon City.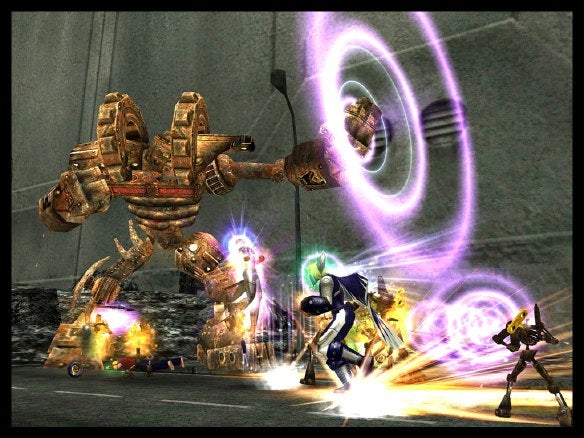 City of Heroes has been available for the PC since 2004, but it's only now coming to the Macintosh thanks to a partnership between NCsoft and TransGaming, makers of the Cider translation layer technology that's brought a slew of hit games to the platform in the past couple of years.
Intel Macs made the difference
Brian Clayton, executive producer of City of Heroes, told Macworld that this is the culmination of a long-term goal of his organization. "Since we launched in 2004, we've been looking for an opportunity to bring City of Heroes to the Mac," he said.
Now, with what he calls "a strong penetration" of Intel-based Macs that are capable of playing the game, Clayton thinks the time is right to bring City of Heroes to the Mac.
"I think what really made City of Heroes [for Macintosh] an easy decision was partnering with TransGaming," Clayton explained. "TransGaming has tremendous experience bringing PC games to the Mac platform in a very polished state. It's important that we maintain the quality of our product."
To that end, Clayton and TransGaming CEO Vikas Gupta confirmed that NCsoft and TransGaming will act to keep both the Mac and PC versions of the game in lock-step with each other, providing simultaneous releases for patches and new content for both platforms.
"When we started talking to NCsoft, one of their biggest concerns was the impact that City of Heroes for Mac might have on the core community," explained Gupta. "They didn't want it to disrupt PC gamers, and at the same time didn't want to bring a different experience to the Mac."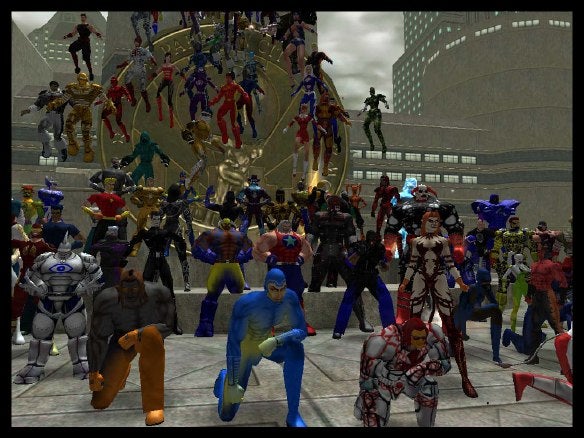 To that end, Gupta assures Mac users that they'll get "a completely parallel experience" playing City of Heroes on the Mac. "There's no difference between the Mac and PC City of Heroes gamer," he said. "We have the ability to keep pace without disrupting the PC development team."
For Mac users, City of Heroes represents a unique gaming experience, according to Clayton. "City of Heroes is not an MMO that does everything, but everything we do, we do well," he said. "It's the only superhero MMO on the market, and it's based on our own intellectual property, which enables players to be the signature star of the story.
"What makes City of Heroes a compelling experience is the customization involved in our character creation system, its action-oriented combat and flexible grouping system for things like sidekick characters," said Clayton.
A good match for Mac users
Clayton said that NCsoft expects City of Heroes to be a good match for Mac users, as it plays well both for casual gamers who can only find a couple of hours each week to play, all the way to hardcore gamers who can invest dozens of hours to improve their characters.
If everything goes as planned, City of Heroes for the Mac will be available for download as an open beta sometime in November. Mac users will have a chance to download the game and kick the tires for free. Users interested in participating in the open beta can sign up now.
Following the open beta, the game will be released for digital distribution for $19.99 through GameTree Online, the online sales and download site operated by TransGaming. That charge will net you the game plus a month of game time; additional months cost $14.99 each.
System requirements call for Mac OS X 10.4.11 or later, Intel Core Duo processor, 1024MB RAM, ATI X1600, Nvidia 7300 GT or ATI X3100 graphics, and 2.9GB hard disk space. You'll also need an active Internet connection in order to play.
City of Heroes has been rated T for Teen by the ESRB.