Chromatic Bytes has announced the release of ZeusDraw Mobile for the iPhone and iPod touch. It's available for purchase and download now from the App Store for $9.99.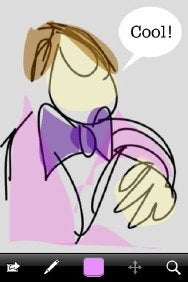 ZeusDraw Mobile offers users "professional" painting and drawing tools on the iPhone or iPod touch, according to the developer. Its freehand tool with smooth curves, and it has editing tools so you can place, scale and rotate objects that you just drew. Text tools let you place text in any font and any orientation.
ZeusDraw Mobile also incorporates brushes and effects like transparent color support, to get watercolor-style effects. Other features include an eraser tool, picture in picture support, shapes, zoom control and a drawing album where you can save images you've been working on.
ZeusDraw Mobile requires an iPhone or iPod touch running iPhone 2.0 software or later.